Silk Sonic Is Coming to Fortnite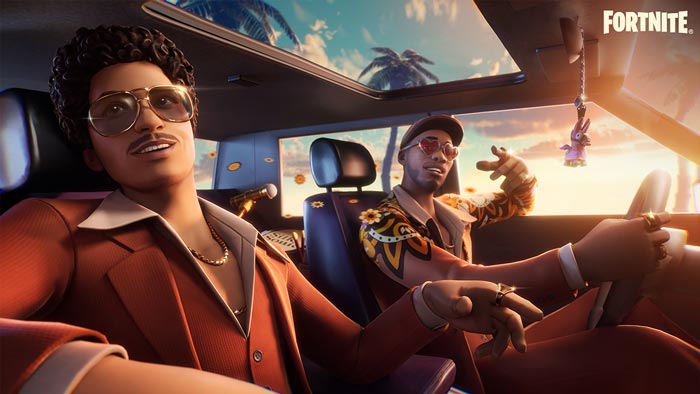 Fortnite is opening the door to Silk Sonic.
The duo of Bruno Mars and Anderson .Paak will bring their funky sound and style to the online game as part of the Icon Series, which includes in-game skins, an in-game radio station, and a player tournament.
Players can dress like either Bruno or Anderson with Silk Sonic Set outfits, which will launch in the game on Feb. 10 at 7 p.m. ET. Fortnite fans will get early access to the new skins by competing in the Silk Sonic Cup tournament, starting on Feb. 7.
Teremos Silk Sonic no Fortnite pic.twitter.com/Yd3OgjJGiw

— 🇧🇷BRASIL Bruno Mars (@Fasbm) February 3, 2022
There is also an Icon Radio station launching today, allowing players to crank up tracks from the duo's debut album An Evening with Silk Sonic, with host Bootsy Collins.
"When Fortnite asked me if I wanted to create an outfit for the game, I asked, 'Are CGI muscles off the table?' They said 'no.' I said 'deal.' I'll see you on the Island," Bruno said.
[1/2] Screencaps de Silk Sonic — Bruno Mars e Anderson .Paak — no trailer das novas skins no Fortnite. pic.twitter.com/rWk1MBn0bc

— Mídias do BMAlwaysBr (@BMABrMidias) February 3, 2022
Added Anderson, "When Fortnite agreed to give Bruno CGI muscles, I said, I'm in. He could use the help, so I support it. And it makes me cool. Win, win."
Bruno and Anderson are no strangers to Fortnite. In September 2020, Anderson performed a Spotlight Concert Series, while Bruno's "Leave the Door Open" Emote was added to the game in April 2021.
Fortnite has also featured other artists including Travis Scott and Ariana Grande, who staged virtual concerts.