T.I. Shuts Down Busta Rhymes' Verzuz Challenge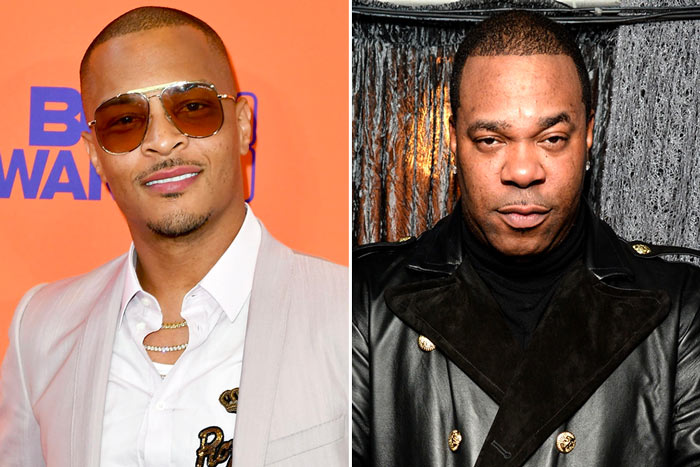 T.I. doesn't want smoke with Busta Rhymes.
During his appearance on Fat Joe's Instagram Live show last night, Busta challenged the Atlanta rapper to a Verzuz battle. "I'm begging you to step in the ring with me. I'ma bust your ass," Busta told Tip. "We gon' do it with grace, but I'ma bust your ass. Come on, T.I. Let's have fun."
KING T.I. aka KING OF THE SOUTH aka @Tip aka MR. EXPEDITIOUSLY aka YOU SAID YOU WANTED THAT N.Y. ENERGY/SLASH NEW YORK SMOKE 💨? I'M HERE FOR YOU WITH OPEN ARMS… DON'T GET SHOOK NOW SHAWTY!!RESPECTFULLY (IN MY @RealSway voice) HARLEM!! @fatjoe #ITSTHESILENCEFORME @verzuzonline pic.twitter.com/O1fFmJYsYe

— Busta Rhymes (@BustaRhymes) October 21, 2020
Despite Busta's plea, the challenge was not accepted. Taking to Instagram on Wednesday, the King of the South explained that he and Busta wouldn't be a good match because they come from two different generations of hip-hop.
"I respect my elders, no cap," he said while citing Busta's stint in Leaders of the New School. "I didn't know we were reaching back through generations. There's a huge generational gap there, isn't it?"
While he has "an exponential amount of respect" for Busta, he pointed out their age gap. "No disrespect at all, but y'all wouldn't put Brandy up against Dionne Warwick," said Tip. "It's kinda like Mike Tyson and George Foreman…or Mike Tyson and [Muhammad] Ali."
View this post on Instagram

@therealswizzz @timbaland
He then suggested more appropriate competitors for Busta including LL Cool J, Method Man, or even Fat Joe. "What in the digging of the crates is going on here?" T.I. asked before praising Busta as "one of the most phenomenal talents of our time."
Back in June, T.I. challenged 50 Cent to a Verzuz battle, but 50 brushed him off. Fans have also proposed a T.I. vs. Jeezy matchup, but Jeezy hasn't responded. "If Young wanted this smoke, he'll say it," said Tip.
T.I. is fresh off the release of his album The L.I.B.R.A. (The Legend Is Back Running Atlanta), while Busta is gearing up to drop his new album Extinction Level Event 2: The Wrath of God on Oct. 30.
Swizz Beatz and Timbaland have yet to announce the lineup for Season 2 of Verzuz.