The Game Responds When Asked to Say Something Nice About 50 Cent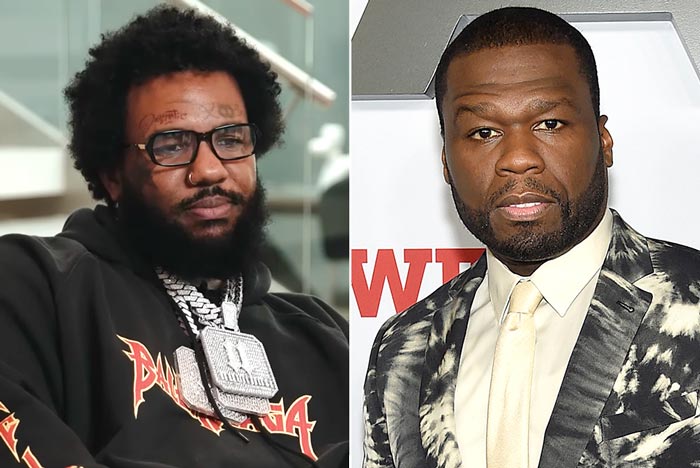 The Game can't leave 50 Cent alone.
During a visit to the "I Am Athlete" podcast to promote his upcoming album Drillmatic, the Compton rapper once again discussed his long-running beef with his former G-Unit member.
When the hosts asked him to say "one thing nice" about his rival, he responded, "Sometimes you need loose change."
He then described rummaging through his car looking for money to feed the parking meter. "Loose change, you need it sometimes," he joked.
Game was also asked if he would prefer to do an album or a movie with 50, opting for the latter.
"What kind of movie? Does this ni**a die in the movie?" he asked.
He outlined a plot for a movie seemingly inspired by 50's estranged relationship with his oldest son Marquise. He even gave the movie a shady title—Abandonment.
"I think the movie is he abandoned his son and I come in to the baby moms and show her how a real dad is," he said. "Me and him, I don't really f**k with him because her abandoned his kid, his own child, his flesh and blood. And then I come along and pick up the pieces. He don't owe me nothing, but I got problems with him."
Game continued to take a subliminal shot at 50. "Any man that don't wanna take care of their own child for any reason, I got a problem with."
Later in the interview, he shut down rumors that 50 wrote his debut album The Documentary. "We know that's not true because I have more classic albums than him," he said while claiming that 50 only has "one classic album," Get Rich or Die Tryin'.
"Me, I've had several and I'm still here," he said. "Cut all the 50 wrote for Game shit. 50 wrote for 50 and did his part."
He also boasted about being a better rapper than 50. "You rap, I rap. I'm just a better rapper than you," he said before giving props to the "Power" producer. "And that's cool 'cause you a better TV producer than me."
Game is gearing up to drop his next "classic" album Drillmatic on July 1 featuring appearances from Kanye West, Lil Wayne, and NBA YoungBoy, plus a collaboration with Chris Brown and Chlöe Bailey.