Trina, Flo Milli, & Maiya The Don Releases Empowering New Single "No Love (SheMix)"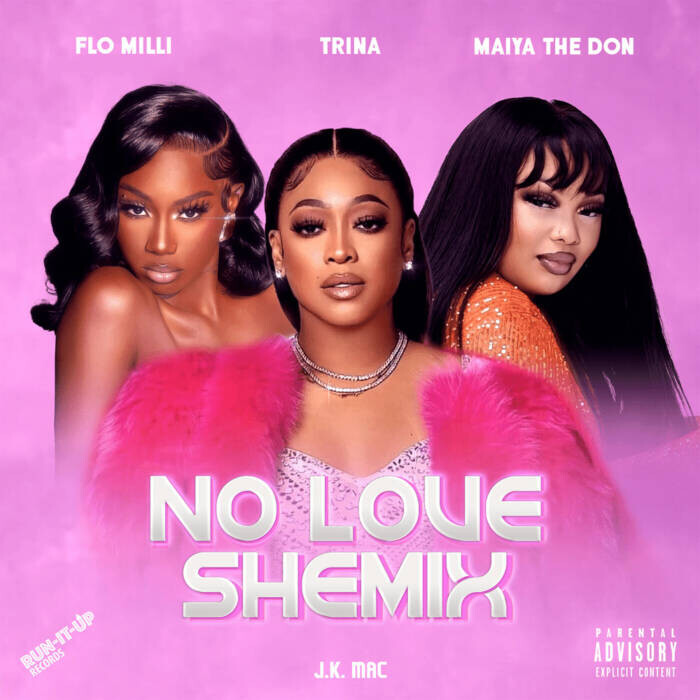 Legendary recording artist Trina continues to add to her legacy with the new additions to her catalog in new remix single "No Love (SheMix)," which features collaborations with today's hottest female artists Flo Milli and Maiya The Don. The new collaboration, available now via Run-It-Up Records, connects generations past, present, and future together as they display irresistible female empowerment through raunchy, commanding, and impactful lyrics.
"This record celebrates how impactful women can be when we unite our talents and deliver heat dubbed on this SHEMIX. It was an amazing experience to team up with these ladies. I love Flo Milli, she is dope and super talented. Maiya The Don delivers a unique sound to the record that I adore. This remix is for the ladies as their new summer anthem to vibe to. Connecting with the RUN-IT-UP Records team has been a great experience, and I am excited to partner with them on this next project. I am looking forward to what the future holds for this business endeavor, so let's RUN IT UP!"
Collaborating with the Baddest Bitch is a dream come true for the two feature rap stars who have been fans of the legend since an adolescent.
Maiya The Don added: "So excited to be apart of this. I adore Flo, and I love Trina. Grateful to be working with Flo once again and to be on a track with the icon that Trina is. Thank you J.K mac for thinking of me!"
Flo Milli appears on the track courtesy of RCA and Maiya The Don appears on the track courtesy of her own imprint. Both artists are today's hip hop sensations that are making waves with their cutting-edge lyricism, unique rhythms, and different styles. Maiya The Don released her latest single, "Dusties," last March, and is currently featured on the new remix for Flo Milli's "Conceited," which also features Lola Brooke. Flo Milli released the extended version of her 2022 album You Still Here, Ho? that same month.
A BET I Am Hip-Hop award recipient in 2022, Trina's music has inspired generations of fans and artists. Outside the awards and today's female artist's idolization, the Miami native has been recognized as one of the most revolutionary and influential female rappers of all time. "No Love" comes in celebration of June's Black Music Month. For more on the three stars, follow them daily on social media.
Stream "No Love (SheMix)" below.
© 2023, Bryson "Boom" Paul. All rights reserved.