Watch The Game and Mike Tyson Arm Wrestle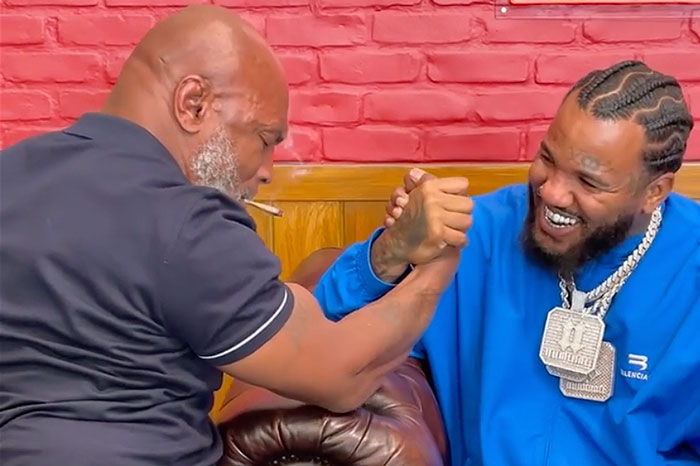 The Game is showing off his super-human strength against Mike Tyson.
During his visit to Tyson's "Hotboxin'" podcast, the Compton rapper faced off with the former heavyweight champion in an arm-wrestling match. The "Hotboxin'" account shared video of their match where Tyson, with a lit joint in his mouth, struggled to strong-arm Game.
"Ayo Mike, chill!" Game told him before Game yelled, "It's a tie, motherfu**er!"
View this post on Instagram
Game later claimed victory. "I beat @MikeTyson arm wrestling & before you get started in the comments… he told me this eye to eye after it was over," wrote Game, who said he went easy on his competitor.
"I went light on em in the end cause I love him and I found it in my heart to let him come back lol," added Game, who's been hitting the gym hard. "Not to mention, he leaning in with his whole body, n pulling on the couch arm… strong ass n–a ha ha ha. I don't think he was ready for my strength."
And he's ready for another round. "Rematch coming soon," Game wrote on his Instagram Story.
While at the "Hotboxin'" studios, he also received a pair of signed gloves from Iron Mike. "R.I.P. to my father. He would've loved this, this moment right there," said Game.
Game is now ready to flex his lyrical muscle with his highly-anticipated album Drillmatic, which drops June 10. "I know my album gone be the best album of 2022 cause the energy feels like I just signed my deal," he told fans. "You've never heard me rap like this, I promise you."