21 Savage Reveals 'Top 3' Financial Tips JAY-Z Gave Him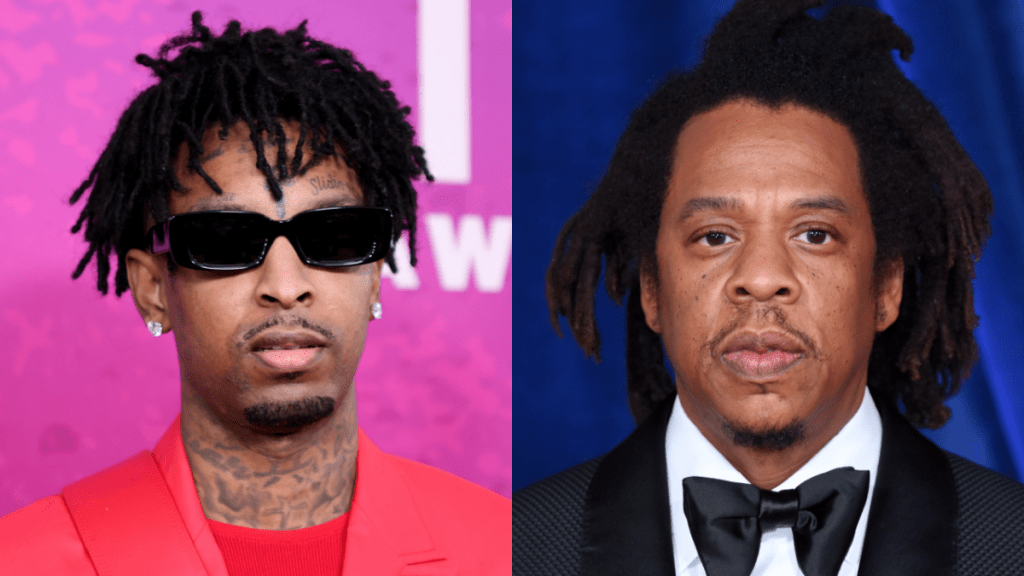 One of Hip Hop's most revered elder statesmen, JAY-Z has taken many a young artist under his wing in an effort to impart his billion-dollar blueprint to the new generation. Among them is 21 Savage, who shed light on the game he's soaked up from Hov during a recent appearance on Math Hoffa's barbershop conversation series My Expert Opinion.
The Atlanta native began by claiming JAY-Z is the only celebrity who's left him starstruck ("The only moment I can say where I was like, 'Damn!' was when I went to JAY-Z's house"), before recalling the advice he received from Hov on how to spend his money wisely.
"He just told me his top three things that he spent his money on," he said. "We ain't really have no financial conversation. He just was like, 'Chef'; I went and got a chef. 'A doctor'; I went and got a doctor. And he said a lawyer; I already had a lawyer at the time."
21 revealed the Roc Nation boss also encouraged him to invest in art: "He was telling me about art, too. I started investing in art and shit. I don't even think [NFTs] was around back then. This was like 2018, 2019."
When asked if hiring a chef and a doctor have made a positive impact on his life, the Savage Mode rapper replied, "Hell yeah. I had a lawyer, but the chef, hell yeah 'cause I eat cleaner, I don't really gotta leave the house as much. And the doctor is convenient too; I hate hospitals and shit, so it's good to have on call."
He joked, "[JAY-Z] got a different level of doctor, though. His doctor and my shit is different. He got a real doctor. Not living [in his house], but they'll come and give you surgery at your house type shit."
During the interview, 21 Savage also touched on the role that JAY-Z played in releasing him from Immigration and Customs Enforcement (ICE) custody in 2019. The British-born rapper was detained after authorities claimed he had overstayed his visa.
"I called Meek [Mill] while I was in jail and told Meek like, 'Bruh, I just got locked up,'" he remembered. "He called JAY-Z and JAY-Z put a lawyer on my case. He played a role in getting me out of there, for sure. Meek put that together."
According to 21, JAY-Z doesn't help just anybody, though: "You gotta be a certain type of n-gga. He ain't doing that shit for anybody just 'cause you rap. You gotta be from a certain cloth and n-ggas gotta be able to look at you and hear about you and know, 'He like us.' I ain't Roc Nation or none of that shit, so he really did that shit just off the strength."
21 Savage previously opened up about JAY-Z's help with his immigration troubles on the Big Facts podcast in 2020, revealing the Marcy Projects mogul declined his offer to pay him back for his legal assistance.
"When I got out, I pulled up on JAY-Z at his house," he said. "Him and Beyoncé was in there. And we was kicking it. He a regular n-gga. I just was thanking him.
"When I first got out, I texted him like, 'I'ma pay you back.' He was like, 'I don't want your money. Pay me back by being great.' So I pulled up on him, chopped it up thanked him and shit 'cause he ain't have to do that."