50 Cent & The Game Trade Shots Following Super Bowl Emmys Wins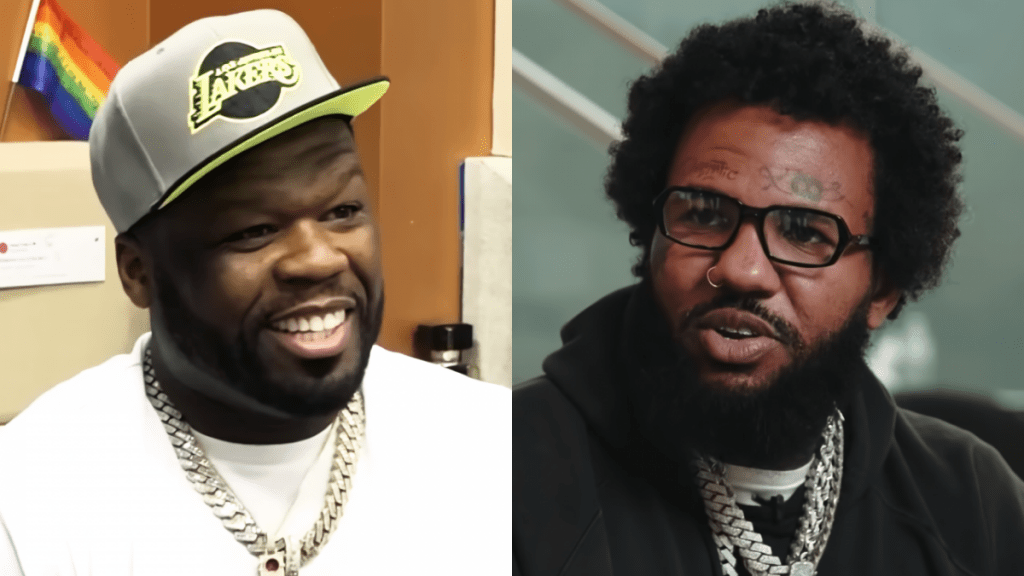 50 Cent and The Game's long-simmering feud has been reignited once again following the former's success at the 2022 Primetime Creative Arts Emmy Awards.
50 — along with Dr. Dre, Eminem, Snoop Dogg, Kendrick Lamar and Mary J. Blige — won three Emmys over the weekend for their Super Bowl LVI Pepsi Halftime Show, including Outstanding Variety Special (Live), Outstanding Production Design for a Variety Special (Area) and Outstanding Music Direction.
After the awards were announced, 50 took to social media to taunt his long-running rival while celebrating his first Emmys wins.
"I just won my Emmy award [clapping emojis] for the super bowl half time show. LOL," he wrote on Instagram before posting a photo of The Game looking angry with the message: "No Caption needed [grinning face emojis]."
The Compton native returned fire by posting an old photo of 50 Cent modeling a sleeveless shirt on Instagram. "No caption needed [grinning face emojis]," he wrote. "#SpicyAssN-gga [hot pepper emoji] #whatYoEyeBrowDoin ? Lol #yoTieBlowingInTheWindLol."
Hours later, the G-Unit mogul fired back by posting a GIF of his laughing in a car meme while mocking the reported first-week sales of The Game's latest album Drillmatic: Heart Vs. Mind.
"Oh no, [confused face emoji] i'm sorry you don't get one [trophy emoji]," he taunted in the caption. "Then the first week 18k, if you need someone to talk to i'm here for you. LOL."
View this post on Instagram
During an interview with the I Am Athlete podcast in June, The Game admitted he was "hurt" that he wasn't invited to perform at the Super Bowl, despite being a former Dr. Dre signee and Los Angeles native.
"I was hurt by that," he said. "And let me tell you, Snoop didn't do me like that. Kendrick, it's not his Super Bowl, it's not Snoop's Super Bowl. I talked to Snoop about it, Snoop was like, 'You know, cuz, if it was my Super Bowl, we'd have been in that muthafucka.' And that's my uncle and I love him to death."
He added: "I feel like Dre should've called and said why. I would've understood that because I talk to Dre often. I just know if I was Dre and he was Game, he would've been up there. That's just it, it's L.A. And I am L.A. I'm in the streets."
50 Cent and The Game's beef has sizzled throughout 2022, with the former collaborators trading shots online over comments about Dr. Dre, former Interscope boss Jimmy Iovine apparently snubbing the Documentary rapper at a Lakers game and 50's girlfriend allegedly sliding into Game's DMs.
Most recently, 50 denied claims made by The Game's manager, Wack 100, in March that the Compton native helped write his Get Rich or Die Tryin' hit "What Up Gangsta."
"I'm like, 'C'mon, bro. You wasn't even around when we did that. That was before you even came into the picture,'" Fif said. "That was Get Rich Or Die Tryin'. We didn't even know who he was until after. There's a point when you [reach] desperation and you'll say anything."
According to Tony Yayo, the pair's bitter feud stems from the rivalry between Jimmy Henchman and the late Chris Lighty, the former Hip Hop executives who helped oversee their respective early careers.
"The poison in that was Jimmy Hechman," Yayo told VladTV earlier this year. "Jimmy Henchman never liked Chris Lighty. He never liked Chris Lighty. There was always jealousy. Chris Lighty always had hate from people because you know he had P. Diddy, he had 50, he had Foxy, he had LL."
He added: "I feel like [the Henchman beef] was inherited from Chris Lighty. He never liked the guy … 50 was on some shit; 'If you fuck with my opps, then you a opp.'"