A$AP Rocky Debuts New Playboi Carti Collaboration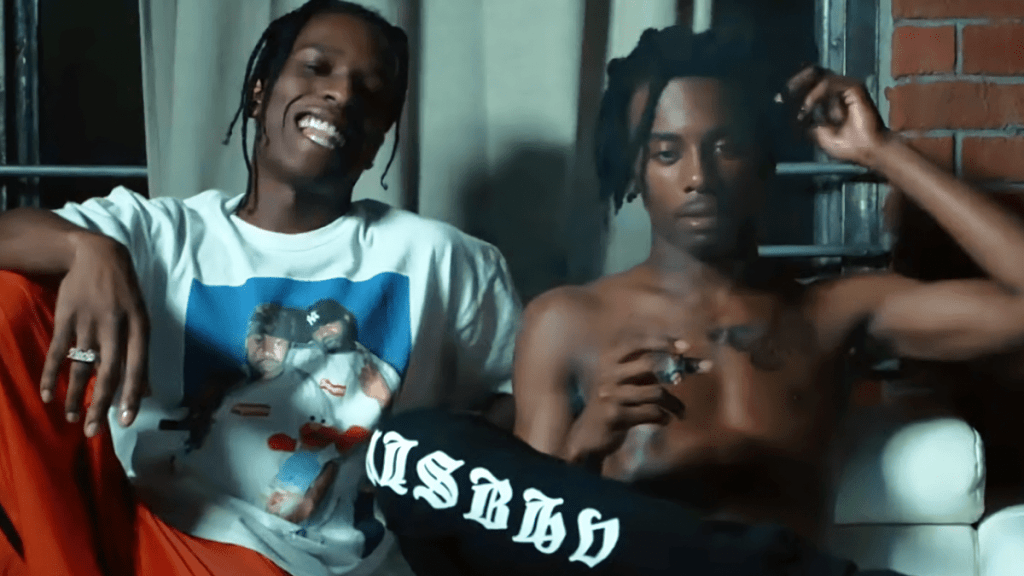 A$AP Rocky and Playboi Carti sent their fans into a frenzy on Friday (September 2) after debuting a new song by surprise.
Lord Pretty Flacko premiered the collaboration on Instagram and gave fans a generous three-minute preview of the song, which is tentatively titled "Our Destiny" and features a sample of Destiny's Child.
The track was accompanied by a video showing Rocky and Carti partying with Grammy-winning singer Beck in Dublin, Ireland. The footage appears to have been recorded after the AWGE duo's performances at Longitude Festival in the Irish capital in early July.
"We living the life and we living it large / I was born like this, I can not fall / I've been like this, I'm not like y'all / I can't go to the mall, I'm bigger than them all / Put a bag on a bitch, put a bag on a broad," Carti raps on the song.
Rocky then takes over with a slick verse rapping: "NY trill, shit on sight with them steels / New love site, log in w w w dot I'm nothing like your man dot com / Slash com, the greatest of all time, they must have forgot / Like it's Alzheimer's, old timers, all kind of commas in my State Farm / Let's shake some dollars then I break your heart."
View this post on Instagram
An official release for the song has yet to be announced, but the snippet alone has fans excited. "YESSIRRRR NEW ROCKY X CARTI," one person wrote on Instagram, while another said: "Yooo carti x rocky never thought this shi will happened again."
It's just the latest collaboration between A$AP Rocky and Playboi Carti, who have connected on songs like "New Choppa," "RAF," "Telephone Calls," "Blowin' Minds" and "Summer Bummer." The Harlem native signed the ATLien to his AWGE imprint in 2016.
"Our Destiny" comes just a few months after Rocky returned with his new single "D.M.B.," which was accompanied by an eclectic music video starring his girlfriend Rihanna, with whom he welcomed a child in May.
Pretty Flacko has been teasing a new album as far back as 2019, but concrete details have been to be announced. His last project, Testing, arrived in 2018, debuting at No. 4 on the Billboard 200 after earning 75,000 album-equivalent units in its first week.
Away from music, Rocky's legal woes worsened recently when he was sued by former A$AP Mob member, A$AP Relli, for allegedly shooting him in Los Angeles in November 2021. (Rocky was arrested in connection to the shooting in April and has since been charged with two counts of assault with a firearm; he has pleaded not guilty to both counts.)
In his suit, Relli (real name Terell Ephron) accused the rapper of luring him to an obscure location in central Hollywood and intentionally firing multiple shots at him, resulting in minor injuries to his left hand. Relli claimed he has received "multiple death threats and irreparable harm to his career in the entertainment industry" over the incident.
Relli is seeking damages in excess of $25,000, special damages (x-rays, medical, future medical bills), loss of earnings and earning capacity, and unspecified punitive damages.