AEG Presents Blazes A Trail With Denver's First Mobile Concert Ticket Truck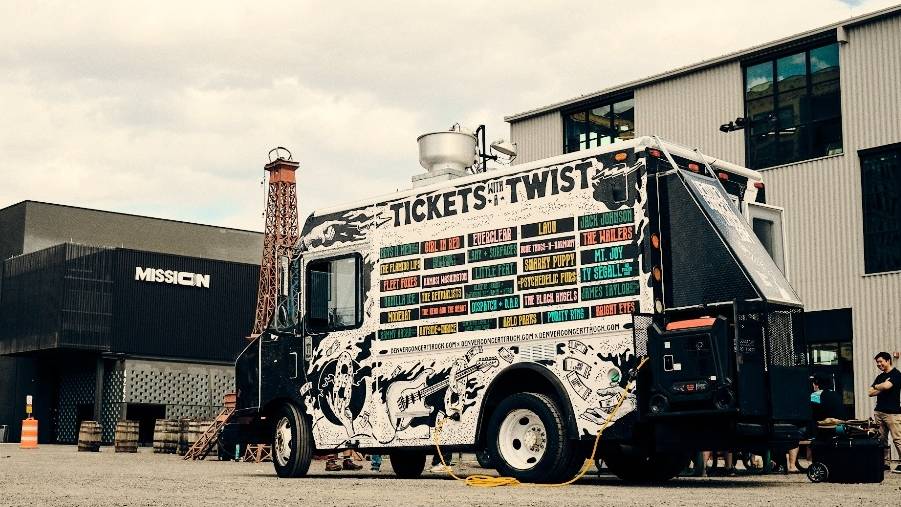 Denver, CO – AEG Presents, one of the world's largest live entertainment producers, has launched its first traveling mobile box office in Denver. According to a press release, it operates out of Mile High Pretzel Co's food truck, selling fee-free tickets to upcoming concerts at local venues, including Bluebird Theater, Gothic Theatre, Ogden Theatre, Mission Ballroom and Fiddler's Green Amphitheatre. Operators will also give away free concert tickets, prize and Philly-style pretzels over the course of the summer.
The brainchild of AEG Presents Kellie Owens, Rachel Leonard and several others on the marketing team, the innovative idea will likely spread to other major cities looking to provide concert goers with a unique box office experience.
"In our first full capacity summer back post-COVID, we wanted to make sure fans can enjoy live music as often as possible all summer," Owens tells HipHopDX. "Our hope is that the truck brings that human connection back to purchasing tickets while also saving fans a few bucks."
Leonard adds, "After countless hours of planning and hard work, we're so excited to be bringing to fruition Denver's first-ever Concert Truck. The truck will give us the opportunity to engage with our community in a way like we haven't been able to before.
"In addition to offering tickets and pretzels, we're looking forward to the chance to host ticket and merch giveaways, meet & greets, and other one-of-a-kind activations at the truck. Stay tuned – we have a lot rolling your way!"
The truck will offer an opportunity for fans to purchase tickets without fees with the face-to-face interaction that takes place at a food truck. Named Denver Concert Truck, the truck will operate out of two windows, with Mile High Pretzel Co. serving pretzels out of one window and AEG Presents facilitating ticket purchases and offering giveaways out of another.
Hip Hop and R&B fans can currently cop tickets to dozens of shows, including Boyz II Men, the I Love The '90s Tour featuring Vanilla Ice, Kid-N-Play, Tone Lōc, Coolio and Young MC as well as Bone Thugs-n-Harmony and many more. Find more information here.