Bizzy Bone Calls Out His Fellow Bone Thugs-n-Harmony Members Over Tour Absence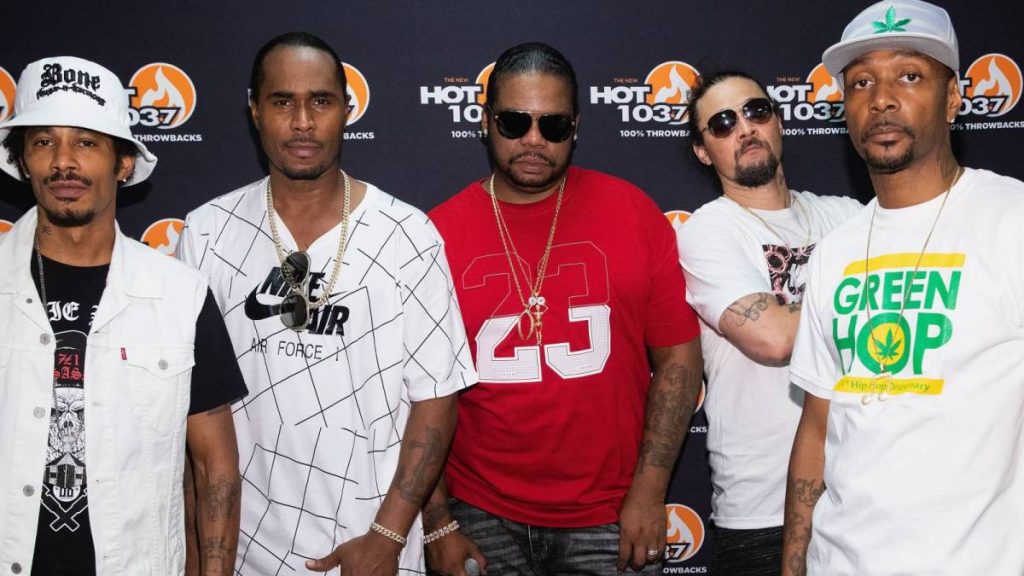 Bizzy Bone has called out the rest of his Bone Thugs-n-Harmony brethren for excluding him from their recent tours.
The Cleveland rapper chose to take his grievances to wax with a new track called "Bizzy Get's Busy" from his latest solo album, I'm Busy, which was released on Sunday (September 11).
"Why this music sound so shitty?" he raps. "Why the fuck is Bone Thugs doing a show without Bizzy?/ Rest in peace to fam litty, n-ggas will shoot you in your city/ Why the fuck is Bone Thugs doing a show without Bizzy?/ I'll say it again, you should be able to say what you want if they really your friends."
Check out "Bizzy Get's Busy" below:
Krayzie Bone was asked about Bizzy's absence on tour during an interview with VladTV in December, shortly after their epic Verzuz against Three 6 Mafia.
Krazyie didn't allude to any internal issues that would prevent Bizzy from being on the road with them, but he did say: "Bizzy got his reasons. I don't know. I don't have conversations with him about that kind of stuff. I let him do him. When he feel like coming and doing what he do, that's what he do."
Bone Thugs have played numerous shows over the years and Bizzy has been curiously missing. Fans have speculated it could be due to Bizzy's unpredictable behavior.
During the aforementioned Verzuz — which took place at The Hollywood Palladium in Los Angeles last December — Bizzy accused Crunchy Black of mocking him as Bone performed and a fight broke out.
Speaking to HipHopDX in January, Krayzie admitted he was "livid" at the time but ultimately understood why Bizzy reacted that way. When Three 6 Mafia performed their "Sippin On Some Syrup" anthem and Bone Thugs' DJ countered with E. 1999 Eternal single "Buddah Loverz," Krayzie admitted that set him off.
"When we did that slow-ass song, I was heated," he said. "I performed that whole song, holding it in, but I was thinking to myself the whole time, 'Why in the fuck are we doing this slow-ass song when they just came with all that energy?' I was pissed, you know what I'm saying?
"And then I didn't even see they were slow-dancing over there, so I didn't know what the fuck Bizzy was talking about. But right when that song went off, my mission was to go back to this DJ and ask him, 'Why in the fuck did you play that slow-ass fucking song?' I was pissed."
Krayzie Bone made his way to the booth and missed what exactly transpired between Bizzy Bone, Crunchy Black and the rest of Three 6 Mafia.
"I didn't even hear what Bizzy said," he continued. "I didn't hear none of the conversation they were even saying on the … I thought Bizzy was just about to grab the mic and talk some shit like everybody else was doing. So I'm back there and I see all the security guards rushing the stage, while I'm walking toward the back of the stage. Our security is running from backstage to the stage. I turn around, and everybody is on the stage. I'm like, 'What the fuck is going on?' And I'm standing there, pissed.
"At this point, I'm thinking Bizzy done come in here and started some shit. I didn't know what happened. I'm like, 'How is they mocking you? What did I miss?' The part I caught from Bizzy when I started paying attention to what he said was, 'You ugly mutherfucka.' Like oh shit, this is going left and then that's when all the shit jumped off. So I'm standing at the back of the stage, watching this shit the whole time, livid. We look like assholes on national fucking TV right now."
Krayzie Bone didn't find out the reason behind the altercation until Verzuz was over. He added: "I was like, 'What the fuck happened?' Why did Bizzy flip like that?' And one of my dudes, Rocky Rock, told me, 'Yo, that n-gga told Bizzy to suck his dick.' I was like, 'What?' I didn't hear none of that. But then when I found out that's what happened, I was like, 'OK, he did the right thing."
As Krayzie noted while talking to VladTV,  he did have a text message exchange with Bizzy after the incident.
"I did send him a text and let him know, I was like, 'Hey, man tell you to suck your dick, you gotta be a man handle your business. Like, I'm not mad at all.' He hit me back and was like, 'All good. I appreciate that, bro.' That was that. That was the conversation."