Boosie Badazz's Rant About Social Media Leaves N.O.R.E. In Stitches: 'It Made Us Hoes'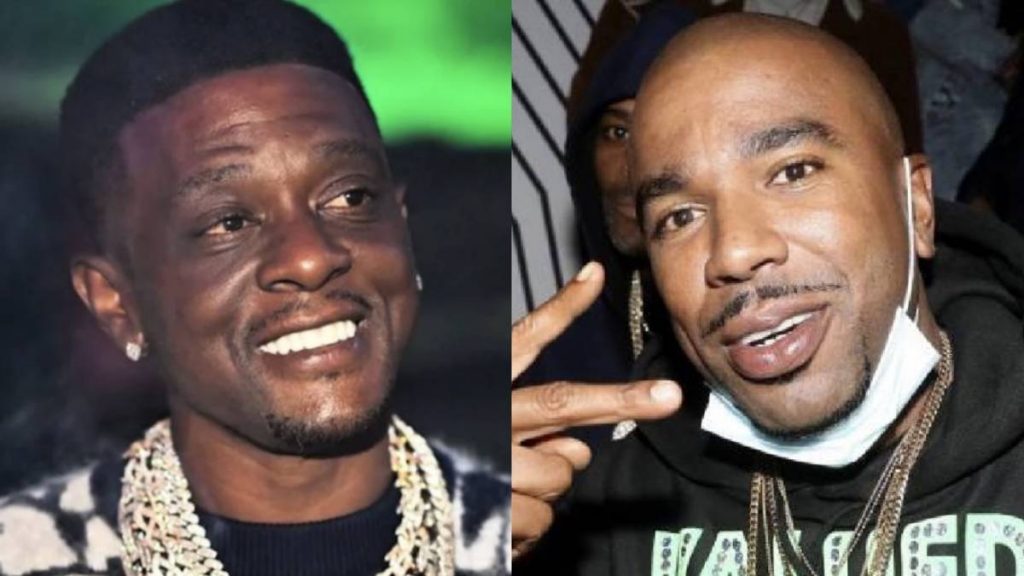 Boosie Badazz has made fans laugh with his unhinged takes on the culture, and he recently had N.O.R.E. do the same with a recent conversation about social media.
The Lousiana native stopped by Drink Champs as the latest guest on the popular podcast and had N.O.R.E. and DJ EFN in stitches with his hilarious take on social media. According to Boosie, apps such as Instagram, Twitter, TikTok and more are a great tool to make money, but it ruins everything else for people.
"Social media fucked up everything," Boosie said. "It made more avenues for money, but it fucked up everything. Marriages, everything. At first, your bitch just used to see the n-ggas at work, you and that's it and then come home. That's all she had to look at. Now she got about 30,000 n-ggas to look at for when you don't act right.
"And she hypnotized by all the other bitches, bitches getting shit on Instagram that she not getting. So all that time you done put in but no money, it fucked up everything. It fucked up you too. All you had to look at was your side bitches, your bitches at work your bitch at home when you come back. That's all we had."
View this post on Instagram
Boosie continued to explain that men are just as messed up off social media as women are. And while he was explaining his opinion, N.O.R.E. and EFN were cackling up a storm in the background.
"A couple side bitches on the other side of town now you hypnotized. You look at your bitch, and you see a thousand bitches look better. They looking way better than your bitch you look over and tell the bitch like…it made us hoes bro. It made your bitch a hoe and it made a n-gga a hoe."
The Drink Champs clip is on brand for Boosie's hilarious antics. Most of his social media videos have fans laughing at whatever it is he's doing, whether it's interacting with bears or dissing a billionaire.
When he's not offering comedic relief to fans, Boosie is showing off the work he's put in for other people. During a recent interview with VladTV, Boosie claimed he put on a lot of street guys and no one in the rap game could compare.
"Ain't nobody ever in rap history never raised more street n-ggas than me," Boosie declared. "I'm talking 'bout no rapper in history raised more street n-ggas than me. I done been around rappers. Everybody come around rappers like, 'N-gga, I love your music.'
"I done been around tons of rappers, they fans like, 'I love you, I love you.' Don't none of them fans come up to them and say, 'N-gga, you raised me.' It's a difference. It's a difference between, 'I like your music, I like your song, I like your jewelry.'"
He continued: "No, 'N-gga, you raised me. Father figure type. I love you type. I felt like you was around me type. Like, you saw everything that was going on.' Nobody has done that more than Boosie, and a n-gga can't take that away."
Boosie Badazz also claimed he's loved by every generation and said he appreciates when people give him credit for his career.