Chrisean Rock Arrested At Arizona Bar Following Violent Fight With Blueface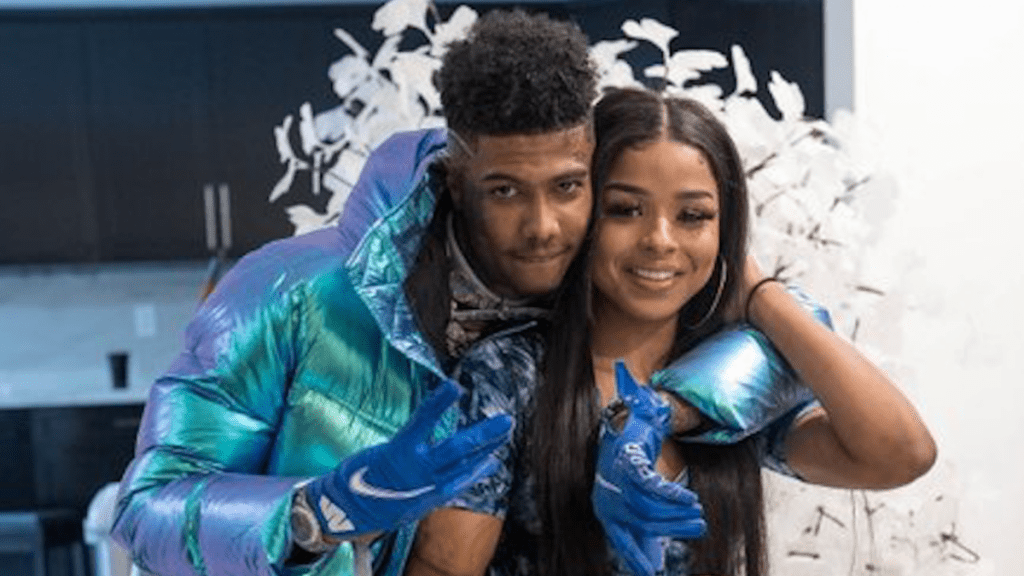 Scottsdale, AZ – Chrisean Rock was reportedly arrested at an Arizona bar called Whiskey Row on Sunday night (August 21). According to TMZ, the singer punched her boyfriend Blueface square in the face — twice. Security tackled her and pinned her to ground as they waited for police to arrive.
But Blueface assured his fans it's all a misunderstanding. On Monday morning (August 22), the "Thotiana" rapper headed to his Instagram Stories where he clarified Rock was arrested for trespassing and not domestic violence.
"All y'all see is a 10-second clip on this muthafuckin' app and y'all come up with all these theories and weirdo conversations," he said. "Let me break the news for you. Rock is in jail for trespassing. She's not in jail for hitting me, touching me, anything that got to do with me.
"We in the middle of the street, she take my phone and run into a closed bar. She take the phone and started running. I was like, 'I'm not even going to chase after her.' I tell the homie, 'Hey, go get my phone, bro."
Blueface explains why Chrisean Rock got arrested 👀 https://t.co/FoC4kxW3kg pic.twitter.com/0nbp4VqYlC

— HipHopDX (@HipHopDX) August 22, 2022
But Blueface said Chrisean Rock allegedly swung on his friend twice, so he was forced to go in after her alone.
"I go into the closed bar," he continued. "'Hey, we're closed, you can't be in here.' I'm tellin' her, 'Come on let's go.' That's why I'm grabbing her […] She's worried about my damn phone. She's hiding under the bar stools, doing weird theatrical stuff. She mad about what she see on the phone, so she hit me. I'm not trippin'. She hit me right me. Then she stand up and hit me with a two-piece."
Blueface then explained he went into the bathroom to wipe the blood from his face and when he came out, she'd already started fighting with security. He added: "They put her down. Nothing I could do, bro."
View this post on Instagram
Despite the couple's undeniably complicated relationship, Blueface is still calling for her freedom. In another clip, he started a "Free Rock" movement and alluded to the physical altercation they had on a Hollywood street earlier this month.
"Free Rock," he said. "We don't ever make the same mistake twice. She hit me this time. Security took her, police took her. What can I do? She hit me with a banger too. I'm like, 'Oooo.' I ain't even do nothing. She be alright. Free Rock."
Many on social media have expressed concern for Rock's well-being, including her older brother. On Saturday (August 20), Rock's sibling headed to his Instagram Stories where he admitted he's willing to go back to jail to keep her safe.
The post arrived just days after another one of Blueface and Rock's explosive fights spilled onto social media. During the altercation, a patch of Rock's hair was allegedly ripped out and a bathroom door was broken down. It was apparently the last straw for the brother.
"Chrisean I Love You So Much and over here hurting bout you," he wrote. "Don't say nothing, wasn't goin to until u introduced us in person cause the shit he be doin on the internet to you c'mon Chrisean. I grew up in and out of prison. I woodn't mine throwing all my freedom away forever for u, you my baby sister, u our baby sister.
"Our father raised us to protect our sisters at all cost. U da youngest one. I know you love Blue, I jus wanna ask him do he love you? I can't play bout u no more Chrisean. I'll see y'all soon."