Cordae Blazes Biggie, Jadakiss & Kodak Black Beats In 8-Minute 'L.A. Leakers' Freestyle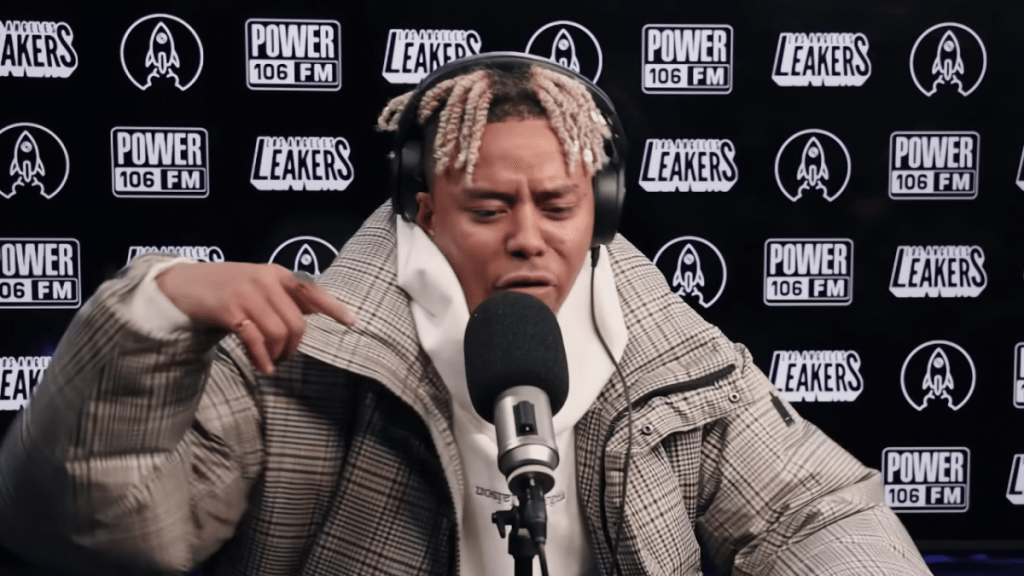 Los Angeles, CA – Cordae crowned himself "the best rapper under 25" earlier this month, and in case his Eminem-co-signed bars or Grammy-nominated catalog wasn't enough, he sought to back up his claim during a visit to Power 106's L.A. Leakers on Wednesday (January 12).
Almost four years after first gracing the hot seat, the DMV native returned to Justin Credible and DJ Sourmilk's radio show, where he warmed fans up for his sophomore album, From a Bird's Eye View, by delivering a blistering, eight-minute freestyle.
Armed with his commanding flows, clever wordplay and confident boasts, Cordae torched a trifecta of beats including The Notorious B.I.G.'s "Kick in the Door," Jadakiss' "Put Ya Ha Hands Up" and Kodak Black's "Super Gremlin," which recently climbed into the top 10 of the Billboard Hot 100.
View this post on Instagram
The 24-year-old rapper bragged about slaughtering "your favorite rapper" while name dropping Diddy, Ludacris, The LOX, Malcolm X and Barack Obama. "I'm not new to this, I'm true to this, shout out to Ludacris/My first words 'Move, bitch' when I came out the uterus," he rapped over "Put Ya Hands Up."
The Jadakiss beat was a choice pick considering his budding bromance with Cordae. In September, The LOX veteran hit up Cordae's girlfriend, tennis sensation Noami Osaka, to help him secure a "bucket list" collaboration with the young rap star.
"I need to do something with Cordae," Kiss told Osaka. "His mannerism is so cool but his bars… he got them bars that puts him in an elite thing. And then, for you to be his significant other, he's just so cool with it."
Cordae ended his L.A. Leakers freestyle with a mic drop, declaring, "I dare a n-gga to come to the Leakers in the next two months."
Justin Credible and DJ Sourmilk weren't the only ones impressed. Offset, DJ Khaled, Rapsody, Ty Dolla $ign, Brandy and Robert Glasper also gave Cordae props for his ferocious freestyle via social media.
"Keep going," Khaled commented on Instagram, while Offset left several fire emojis in the comments section of Akademiks' Instagram post.
Cordae's From a Bird's Eye View LP is set to land at midnight on Friday (January 14), with features from Eminem, Lil Wayne, Nas, Freddie Gibbs, Lil Durk, Stevie Wonder, Gunna, Roddy Ricch and H.E.R.
Meanwhile, production is handled by the likes of Boi-1da, Hit-Boy, Jake One, Terrace Martin and Cardiak. The album serves as the follow-up to 2019's The Lost Boy, which was nominated for Best Rap Album at the 2020 Grammy Awards.
Check out the full tracklist here.
View this post on Instagram