DJ Drama Links With Icewear Vezzo & OMB Peezy For New 'Gangsta Grillz'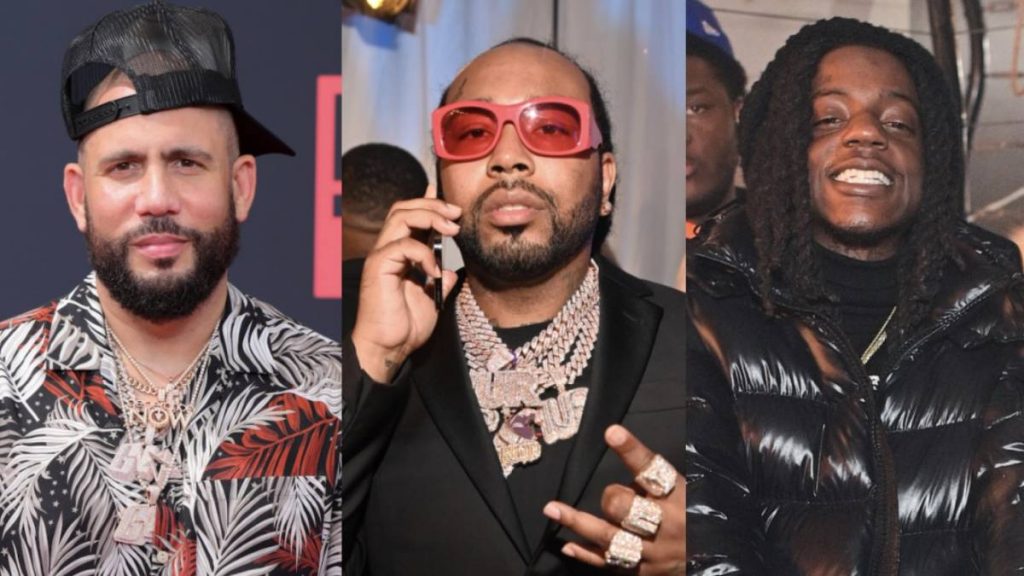 DJ Drama looks set to drop two new Gangsta Grillz mixtapes with Icewear Vezzo and OMB Peezy.
Last week, Peezy hopped on Instagram to announce the release of his and the Philly DJ's Misguided project which will be released on Friday (August 19).
Peezy's post previewed the cover for his Gangsta Grillz tape which sees the rapper lying on a stack of $100 bills and gold.
View this post on Instagram
As for Icewear Vezzo, Drama stirred the pot for their upcoming project on Twitter on Wednesday (August 17) when someone claimed he doesn't work with Detroit artists for his popular mixtape series.
Drama wasted no time bringing up the rapper into the conversation, asking if they should reveal news of their project.
"@DJDRAMA Gangsta grillz don't fw Detroit," the fan tweeted, which caused the Philly native to say: "tuh… @Icewear_Vezzo , u want me to tell em??"
The Detroit rapper replied: "@DJDRAMA we mines let 'em know ! We boutta take it bacc to that 06 grind every hood in America gone be on repeat let's get it ! Dj Drama x Vezzo #GangstaGrills Coming soon."
DJ Drama returned with another tweet adding: "Detroit… whaddupdoe."
tuh… @Icewear_Vezzo , u want me to tell em?? https://t.co/vY9R1OwKXU

— DJ DRAMA (@DJDRAMA) August 17, 2022
😈 Detroit… whaddupdoe‼️ https://t.co/i3hSDCXVGm

— DJ DRAMA (@DJDRAMA) August 18, 2022
Icewear Vezzo and OMB Preezy's forthcoming mixtapes follow Gangsta Grillz projects from the Dreamville collective, Jim Jones, Seddy Hendrix and Badda TD, all of which released in 2022.
DJ Drama's upcoming projects also come after he jumped on Twitter earlier this week and acknowledged all the artists who have been hitting him to do a tape. "N-ggas is hittin me bout doin Gangsta Grillz Mixtapes like its '06 again And Im here for it Love the Nostalgia…," Drama tweeted.
There's also an unreleased Gangsta Grillz project with Max B that Drama revealed he wants to finish earlier this month if the Wave God has things work out in his favor. DJ Drama tweeted a message for Max, who's currently serving a prison sentence for his involvement in an armed robbery gone wrong in New Jersey in 2006.
"Love to my brother @MaxBiggavelli … Can't wait to u come home and we drop that Gangsta Grillz that we was workin on right before you got booked. #SilverSurfer," DJ Drama tweeted.
If that weren't enough, Tory Lanez also teased an upcoming project with DJ Drama. The Philly DJ took to Twitter to ask his fans which R&B artist he should link with for an installment in his Gangsta Grillz series, and one fan was quick to say the Canadian artist.
The two have already worked on the 2015 mixtape The New Toronto, which Drama told the person, but admitted that it could be time for round two with a tweet saying, "The New Toronto… 2015 … but we overdue for another."
Akademiks saw the tweet and shared it to his Instagram where Lanez further hinted that The New Toronto 4 might be in the works.
"THE NEW TORONTO 4 coming soon ?" he wrote under Ak's post.