New Music Friday – New Albums From Larry June, Internet Money, OMB Peezy, YBN Nahmir, B.o.B + More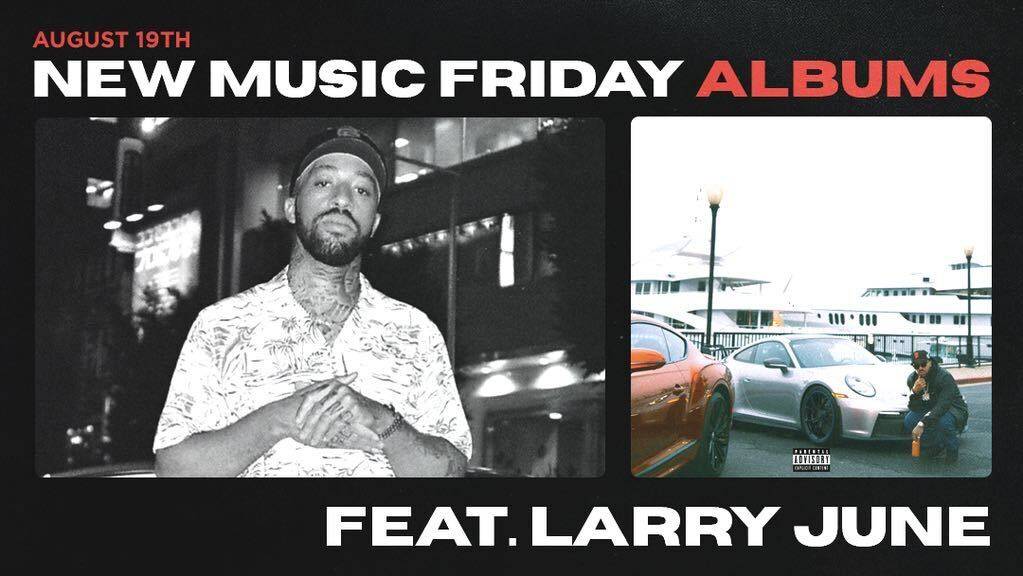 While Diddy believes R&B is dead, here at HipHopDX rap is alive and well.
This week's edition of New Music Friday features a wealth of albums including Bay Area lyricist Larry June's Spaceships on the Blade, Taz Taylor-helmed production outfit Internet Money's compilation EP We All We Got and Atlanta's spiritual warrior B.o.B's Better Than Drugs project. There's also new releases from 300 signee OMB Peezy, Def Jam's YBN Nahmir and SoundCloud-co-signed Virginia rapper Kelow Latesha.
Check out all of the albums released on Friday (August 18), below:
Larry June – Spaceships on the Blade
San Franciso-based artist Larry June leads a well-rounded lifestyle.
In addition to being an all-around hustler, who went from driving for Lyft and trappin' to selling out shows and having multiple collaborations with shoe company Lakai, he's also a street-smart lyricist hell-bent on documenting his love of luxury cars and past life of "Pushin' P" — before Gunna made the chart-topping song. Following his recent singles "Private Valet," and "In My Pockets," LJ captures his diverse array of interests on his 20-track Spaceship on the Blade album.
Loaded with top-notch production from Cardo, Turbo, Jake One and more, Larry June has also invited artists such as 2 Chainz, Curren$y, Babyface Ray and DUCKWRTH to indulge in his highly curated body of work.
B.o.B – Better Than Drugs
Internet Money – We All We Got (EP)
Taz Taylor and Nick Mira of Internet Money have created quite the buzz by aligning themselves with artists on the bleeding edge of music.
In fact, in 2020 they collaborated with then newly minted Cactus Jack signee Don Toliver for "Lemonade" featuring Gunna and NAV, which resulted in the record landing on the Billboard Hot 100 Chart at No. 6, earning over one billion Spotify streams and going triple-platinum. Their new six-track EP We All We Got taps rising rappers such as Yeat, LUCKI, Ken Carson, and Destroy Lonely, and also features Internet Money collaborators Lil Tecca and Lil Yachty.
The project also includes contributions from Internet Money producers Cxdy, Census, Rio Leyva, Hologram in addition to Taz Taylor and Nick Mira.
Aitch – Close To Home
OMB Peezy & DJ Drama – Misguided
Alabama-bred artist OMB Peezy is operating at a high level right now.
Don't take our word for it, though, his new Gangsta Grillz mixtape, Misguided, backs the claim as the 16-track release arrives in the midst of DJ Drama's recent hot streak that has seen him collaborate on tapes with J. Cole's lyrically inclined Dreamville imprint and rappers Mo Jangles and Badda TD. Capitalizing on the momentum he created with his 2021 LP's Too Deep For Tears and In the Meantime 2, OMB Peezy explained how Misguided, which includes features from NLE Choppa, Morray, and G Herbo, is his attempt at reaching the youth with a positive message.
"I came up with this title thinking about my childhood and the things I used to see as a kid. I saw things dat I didn't know were wrong until later on in life," he said in a statement from 300. "I just want to show them that they are being misguided before it's too late."
600 Breezy – Retaliation
YBN Nahir – Faster Car Music (EP)
YBN Nahmir is committed to cultivating the lifestyle he dreamed about when he formed the YBN (Young Boss N-ggas) click in 2014 while playing games like Grand Theft Auto on XBOX Live and restoring American muscle cars.
That's part of the reason why he entitled his 2021 debut album Visionland — home to his RIAA platinum "Opp Stoppa," single featuring 21 Savage. The project was a manifestation of his years of hard work. It's also why his new EP dons the name Faster Car Music and includes offerings such as "Lamborghini Truck," and "Where I'm From."
In a sense, the EP marks the next chapter for the YBN Nahmir who just inked a new record deal with Def Jam earlier this year.
Azizi Gibson – You Reap What You Sew
Kelow Latesha – Turbo
Rising Maryland artist Kelow Latesha has partnered with SoundCloud for her seven-song Turbo EP.
After being named alongside artists such as KenTheMan, Ekkstacy and a number of others as members of SoundCloud's 2022 artist class, Kelow Latesha takes her listeners on a first-hand journey through the trials, triumphs and experiences that shaped her life and career on Turbo (which is short for turbulence).
Along with her high-energy "Titanic" collaboration with late DMV rapper Goonew, Kelow Latesha also connects with Asian Doll on "He Ain't Mine."
This week's Honorable Mentions list includes new offerings from Mura Masa, Dezzie Gee, Freddie Dread, Stunna Gambino, YvngxChris and more. Also, peep this week's New Music Friday singles coverage, featuring new releases from Offset, Fivio Foreign, 1TakeJay and BluBucksClan, Chief Keef and Key Glock, among others.
Stay up-to-date with the latest Hip Hop and R&B releases here.