Doja Cat Proudly Shows Off Her 'First Tattoo' On Instagram – But Fans Are Only Looking At One Thing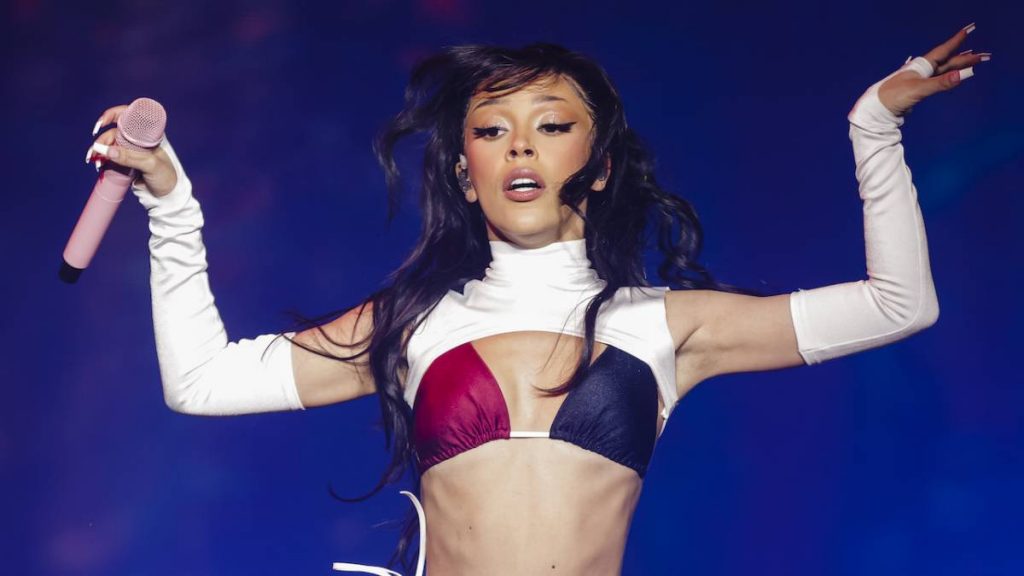 Doja Cat has been enjoying a meteoric rise to success since 2018's viral single "Mooo!" became an internet meme. After Doja Cat released her third studio album Plant Her in 2021, she eventually found herself at the 64rd Annual Grammy Awards accepting a trophy in the Best Pop Duo/Performance category for "Kiss Me More" featuring SZA.
It seems the 26-year-old's confidence has also grown along the way, especially when it comes to body image. On Saturday (July 23), she posted a photo of herself to Instagram wearing a skimpy black bikini in an effort to show off some art on her bare cheek.
Doja claimed in the caption she got her "first tattoo ever," which is a heart with an arrow through it that reads "SEX GODDESS." But in the second photo, which provides a much closer view, it's clear the tattoo would easily come off with some soap and water. Still, most people weren't even concerned with the tattoo — they were too busy salivating over her body.
View this post on Instagram
Doja Cat was supposed to be on the road with The Weeknd as part of the After Hours Til Dawn but was forced to back out after tonsil surgery, so it appears she has some free time on her hands. Earlier this month, she was upset with 17-year-old Stranger Things actor Noah Schnapp after he leaked their private messages about her crush on fellow Stranger Things actor Joseph Quinn.
In an Instagram Live video, the Los Angeles native chastised Schnapp for the indiscretion, while acknowledging he was too young to understand the consequences.
"I think that, to be fair, let's try to be chill about it," she said. "Like Noah is a kid, but, I don't even know how old he is, but he can't be over – like there's no way he's over 21. But when you're that young, you make mistakes. You do dumb shit. I'm like trying to be super fair.
"You do dumb shit, you say dumb shit, you fucking, fuck up relationships with people. You make mistakes. Like you're supposed do that so that you know you're not supposed to do that in the future. I did my share of fuck ups so that I don't fuck up again."
Schnapp eventually issued an apology to Doja Cat and alerted his millions of fans they had talked.