Eminem Admits To Being Hurt Over White Rapper Criticism During Early Career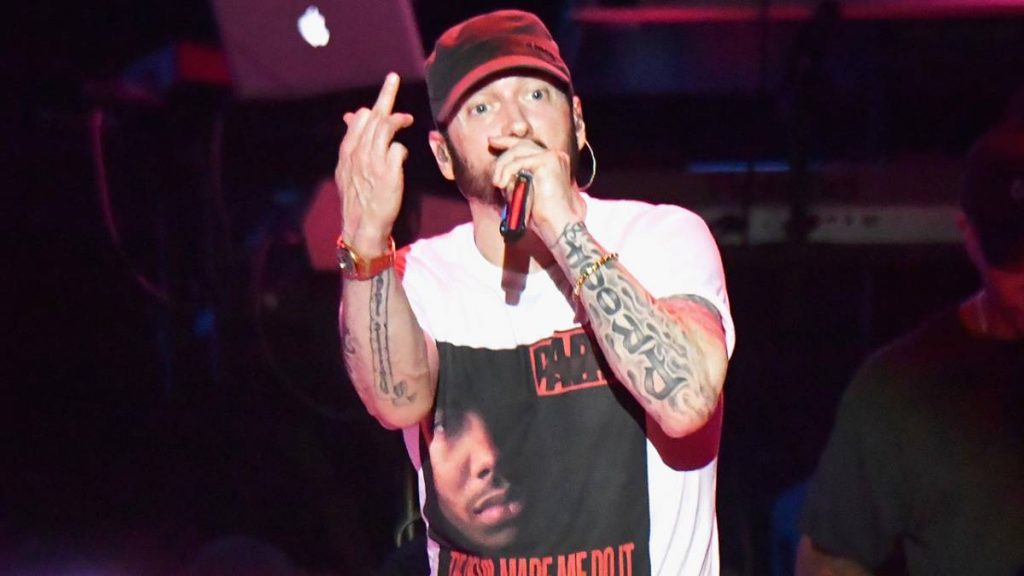 Eminem has opened up about the criticisms he received for being a white rapper during the early parts of his career.
In a rare and exclusive cover story with XXL, the Detroit rap legend reflected on his iconic career, which he explained started out a bit rocky due to the color of his skin. According to Slim Shady, it's something he knew he'd have to deal with being a guest in a genre dominated by Black people.
"When things started happening for me, I was getting a lot of heat, being a white rapper, and XXL wrote something about that," Eminem said. "I remember going to one of those newsstands in New York when the magazine had just started out, and I bought that and a couple of other rap magazines. I flipped to the last page first and XXL was dissing me. What the fuck?"
In the aforementioned issue, XXL had written a piece about Eminem being a white rapper, holding no punches in their criticisms of him. The 8 Mile movie star didn't take too kindly to the insults.
"I don't even know if I read the whole article — I was used to reading things like that about me — but it hurt because I felt they didn't know me to make that kind of judgment," he added. "Coming up, I had to deal with that a lot. I wanted to be respectful because what I do is Black music. I knew I was coming into it as a guest in the house. And XXL, The Source, Rap Pages and Vibe were Hip Hop bibles at the time.
"I understood, at the same time, everybody's perception of a white guy coming into Hip Hop and all of a sudden things start happening for him. So, if XXL would've even had a conversation with me, maybe they would've understood me more."
View this post on Instagram
Eminem ended up targeting the famed outlet in his song "Marshall Mathers" off his third studio album, The Marshall Mathers LP, which dropped in May 2000. The diss in question had Em speaking on helping XXL sell more magazines at the time.
"And then to top it off, I walked to the newsstand/ To buy this cheap-ass little magazine with a food stamp/ Skipped to the last page, flipped right fast/ And what do I see? A picture of my big White ass/ OK, let me give you muthafuckas some help/ Uh, here, XXL, XXL/ Now your magazine shouldn't have so much trouble to sell/ Aw, fuck it, I'll even buy a couple myself," Eminem raps on the song.
The beef wouldn't last, as Eminem said he doesn't quite remember how he patched things up with the magazine but knows he eventually did the iconic 2003 XXL cover shoot with Dr. Dre and 50 Cent. The cover was to officially introduce the G-Unit boss as their latest signee to Shady Records and Aftermath Entertainment.
"Obviously, I was upset," the 47-year-old added. "And it wasn't just magazines. I had rappers left and right taking shots at me. I was used to that, too. Coming up through the battle scene, that didn't mean shit to me, you know? I would go head-to-head with whoever."
Eminem isn't the only white rapper who's faced criticism over the color of his skin as Jack Harlow has been dealing with the same issue recently. The Louisville native spoke to British GQ last year and addressed his status as a white rapper, revealing he actively avoids rapping about his skin color to avoid being seen as a "novelty" rapper like so many caucasian MCs before him.
"I think what has worked for me is that my music has never been about the fact that I am white," he said. "I don't try to lean into the, 'Hey, I'm the white boy.' I try not to make it a novelty. I rap from the heart, rather than trying to do a white version of the art form."
Harlow's fellow Generation Now labelmate, Lil Uzi Vert, spoke to TMZ about his white privilege and how it's not really an issue for him since the "Churchill Downs" rapper is aware of what he's doing.
"No, he's really good," Uzi said. "Yeah, he's really good. He doesn't have white privilege. He's signed to Black people."