Eminem Crashes Pete Davidson's Slim Shady Parody During Actor's Final 'SNL' Episode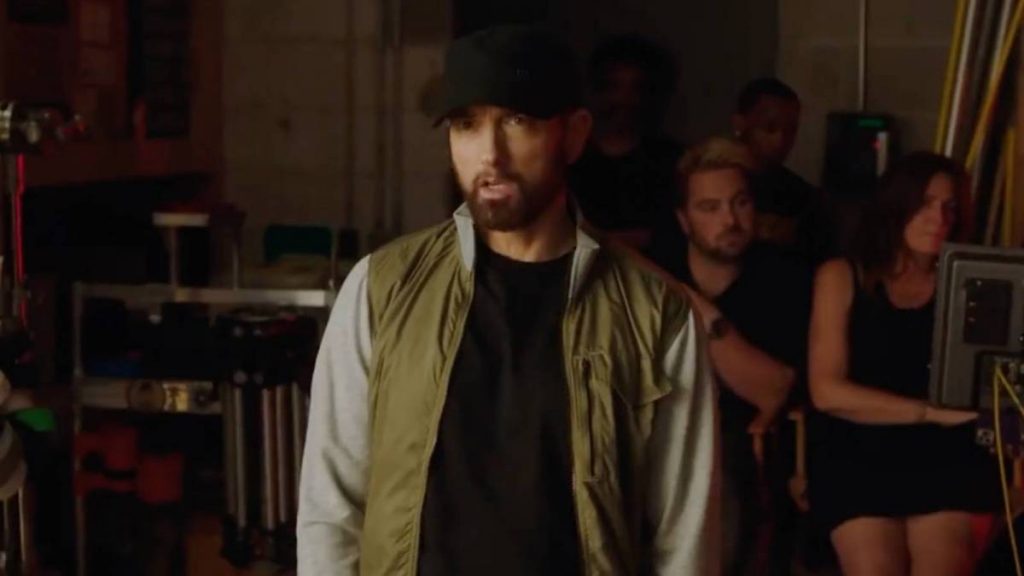 Saturday Night Live actor Pete Davidson bid adieu to the iconic sketch comedy show on Saturday (May 21), marking the 28-year-old comedian's final episode.
During the show, Davidson again rapped along to an Eminem beat — this time to Dr. Dre's 2001 single "Forgot About Dre" — as he said goodbye to fellow castmates Aidy Bryant, Kate McKinnon and Kyle Mooney as well as SNL founder Lorne Michaels. Toward the end of the song — appropriately titled "Forgot About Lorne — the music suddenly comes to a halt and Eminem shows up with a question for Davidson.
"Pete, what you doing, man?" he asks. "It's another parody, another tribute or something? I would just stop. Yeah, they all suck," to which Davidson replies, "Do you not like the videos or you just don't like me?"
Shady responds, "Just please stop. It's really bad." But Davidson claims, "Honestly, we just do these 'cause we love you so much Marshall. They're like a tribute." Eminem wasn't having it though and demands, "Pete, don't fucking do it again."
This is banter the fact @Eminem dropped by on #PeteDavidson's final #Snl is epic ??? pic.twitter.com/lUp8BLAZFO

— MAX (@ThisIsMax) May 22, 2022
As Davidson notes, this was at least the third time Saturday Night Live has done a parody of an Eminem song. In March 2021, Jack Harlow participated in a remix of the Shady classic "Without Me" that doubled as a mock cryptocurrency masterclass. Joined by Davidson and fellow SNL actor Chris Redd, Harlow rapped several original bars about non-fungible tokens (NFTs).
Then in December 2020, SNL resurrected the"Stan" video for a sketch that included a cameo appearance from Slim Shady himself. But instead of Stan, Davidson played "Stu," a deranged fan obsessed with Santa Claus.
The roughly four-minute sketch began at the North Pole where Santa got a letter from Stu begging for a Playstation 5. Davidson is then transformed into Devon Sawa, who played the original Stan in the 2000 video, and began to read his letter.
"Dear Santa, I can't believe the year is almost over," he rapped. "It's getting colder/I'm a year older but I'm still your soldier/I tried to buy one at a Walmart/Ran around the shopping mall like Paul Blart/Tried to fine one for sale but the thing is that they're all out/Yo, I even went to a game stop/And then I was like, 'Oh wait, stop, Santa Claus can make one/The man got his own workshop."
Stu. pic.twitter.com/g2IH5swp9g

— Saturday Night Live – SNL (@nbcsnl) December 6, 2020
Stu's letter went unanswered and he got increasingly angry. Toward the end of the video, Stu got behind the wheel and was driving through the rain, rapping about how disappointed he is Santa can't get him a PS5 and how he drank "a fifth of eggnog" before getting in the driver's seat.
Eminem then appeared on the old TV in Stu's basement, wearing a festive Christmas sweater and opening a present labeled "To Shady, From Santa." Inside, he finds a PS5.
"That's crazy," Em said. "A PS5? I didn't even ask for this! I guess Shady must have been a good boy this year. Sorry, Stu. You fucked up."
Davidson was on SNL for eight years. He addressed his departure during the "Weekend Update" segment alongside Colin Jost and Michael Che, saying in part, "I appreciate SNL always having my back and allowing me to work on myself and grow. Thank you to Lorne for never giving up on me or judging me even when everyone else was and for believing in me and allowing me to have a place that I could call home with memories that will last a lifetime."