Fat Joe Recalls Lil Wayne Going 'Beast' Mode In The Studio: 'I've Never Seen No Shit Like This'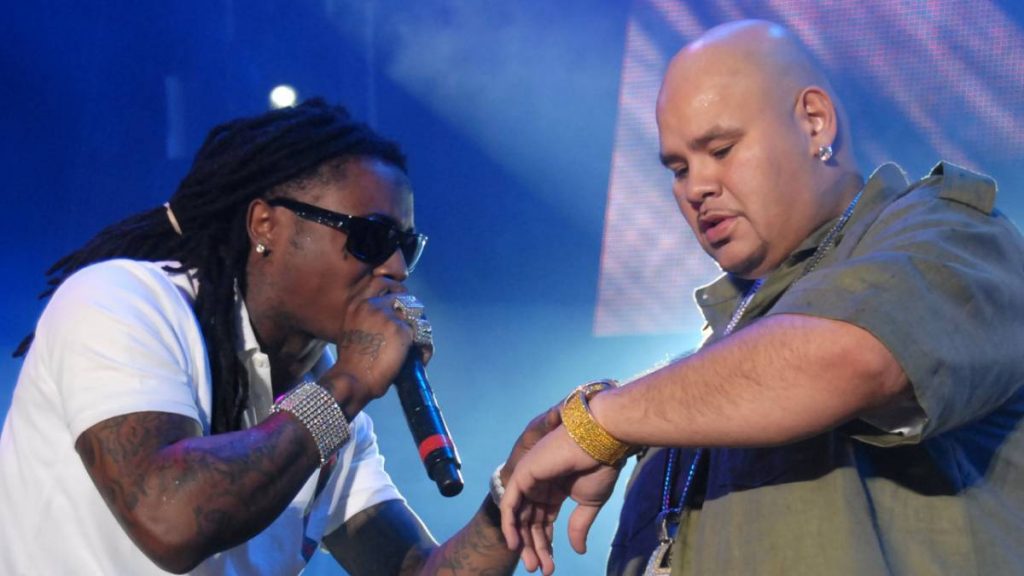 With almost 30 years in the rap game under his belt, Fat Joe has racked up his fair share of collaborations. But when it comes to making magic in the studio, there's one rapper who reigns supreme for Joey Crack.
During an appearance on the latest season of LeBron James' UNINTERRUPTED series The Shop, the Bronx native named Lil Wayne as the MC who has most impressed him at writing rhymes in the lab.
"I don't want nobody to kill me, but the best: Lil Wayne," he said. "Lil Wayne taught me. Lil Wayne took up from 2Pac where he was putting out two albums a year. This guy was never in the club; he was the number one artist in the world, he was just in that studio, in that hit factory."
Fat Joe, who has worked with Wayne on tracks such as "Make It Rain" and "About All That," then recalled a specific studio session where the New Orleans legend recorded his show-stealing verse on DJ Khaled's 2007 hit "We Takin' Over," and being blown away by his energy, creativity and confidence in the booth.
"I was privy to be in there with Wayne 'cause I live in Miami and this guy… He would just get a beat and the guy starts sparring with the speaker! I've never seen no shit like this," he continued. "He's in a little room and these big giant speakers and he's staring at the speaker. He goes in the booth, 'I am a beast/Feed me Hip Hop.' I was like, 'Holy fuck! This guy took the record!' He's a beast."
View this post on Instagram
Fat Joe's comments echo those from HipHopDX's "What Lil Wayne Is Really Like In The Studio" video, the latest installment in our Deep Dive YouTube series. The 18-minute episode sheds light on Weezy F Baby's greatness in the lab, with commentary from Drake, JAY-Z, Kanye West, Eminem, Nicki Minaj, T.I. and Jadakiss.
"Wayne does this thing that's scary and it's unfair and I'm jealous of it for a million years," Drizzy says in one clip from a 2009 MTV interview. "I'll be playing a record and he'll just sit there … and he'll hop up and head right for the booth and lay, like, one or two or three of the most amazing verses that you've ever heard. It's like, 'What just happened? Did you just make a movie in your head?'"
In a bonus clip from his visit to The Shop, Fat Joe named his top five rappers of all time — although Lil Wayne was unlucky to miss out. "Biggie, Jay[-Z], Nas, Rakim and KRS-One," he said. "And it varies all the time."
Watch the full episode below.