Grandmaster Flash, Roxanne Shante & More Visit City Hall To Announce Hip Hop 50 Plans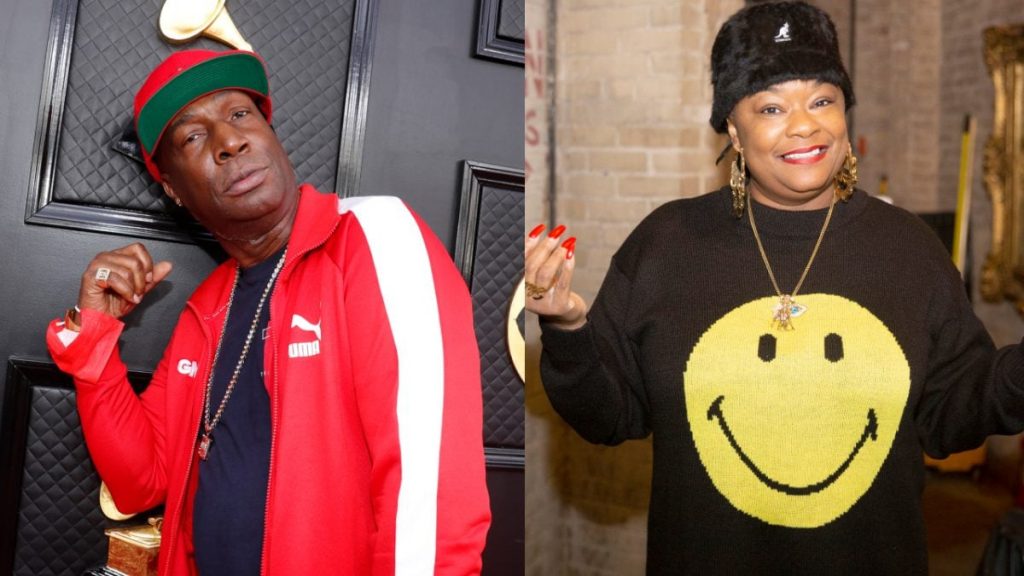 Grandmaster Flash, Roxanne Shante and other rap legends have visited New York City to announce planned celebrations for Hip Hop's 50th anniversary in 2023.
Photos snapped at New York's City Hall over the weekend showed numerous rap pioneers – Flash, Shante, Slick Rick, and Master Gee included – standing alongside the city's current Mayor Eric Adams as they spoke about the celebrations planned in coordination with Bronx's Universal Hip Hop Museum, which will finally open its doors in 2024.
"Today, hip hop legends came together at City Hall to announce @uhhmuseum and NYC's plan to celebrate hip hop's 50th anniversary in 2023," Flash wrote on Instagram. "It's going to be big – I can't wait to get started."
View this post on Instagram
While it's still unclear what events the city has planned, Shanté touched on the timeline for the events when she took to the podium and said the city has 50 separate events planned over the course of 50 days.
"When they first approached me and told me, 'Listen, what we're going to do is we are going to do 50 events, 50 days celebrating 50 years of Hip Hop,' I was like, 'That's a lot of 50s,' the rap legend said.
"But I am honored to be able to participate knowing that seeing the spin that has been taken with New York City and knowing that we're getting ready to celebrate something like Hip Hop here in New York City, where it was. A lot of people want to debate whether it was created here or not, but where we have perfected it. Don't you agree?"
Flash chimed in later in the event, calling it an honor to be celebrating 50 years of the genre he helped birth. "I've been called a legend a lot of times," he said. "Legends die young. A lot of times legends don't get a chance to see what they've done in full fruition. And I'm talking to all the Hip Hoppers there and all the hip hoppers around the world, I want to say thank you. Because when I did this, this thing could have been a hell no."
The announcement comes after Mayor Adams approved $5.5 million in funding for the Bronx museum back in August.
"First time in New York City history, we have a Hip Hop mayor," Adams said during a press conference in August standing alongside Def Jam co-founder Russell Simmons. Laurie Cumbo, the New York City Department of Cultural Affairs Commissioner, was also in attendance.
"We have the power now where we can use the experience of these men and women here to reform how we use music to educate our children," Adams said. "To not only build this project but to make sure the young people on this project don't have a steel gun but a steel hammer so they can be a part of the construction."
He continued: "I'm saying to my brothers and sisters in the industry: We wanna be your partners. You laid the blueprint that we are following. Too many of us have been singing off key. Now we have to have a universal rap that we all have to say together. So this is only the beginning, and I'm proud to be the mayor at this time. Thank God Bill DeBlasio didn't open this museum. No hate on him, but this is my museum I should be opening."
Adams' recent support of rap culture comes after he initially took a passionate anti-drill stance at the beginning of his term.
The 61-year-old had called for social media platforms to ban drill music back in February as he tried to connect the subgenre to rising gun violence in the city.
However, Adams then met with Fivio Foreign, Maino and B-Lovee later that month to engage in a dialogue about drill music, and since has gained the support of notable rappers including French Montana, who was born in the Bronx and said it was time to "embrace" the politician.
"In order for us to make a change, we have to embrace people like [Eric Adams] and people in the higher positions that can help see the vision and help these kids because we don't have no help out here," French said in an interview with Sway in the Morning.