Jack Harlow & Big Sean Hit A Steakhouse For Wavy 'Way Out' Video Ahead Of Debut Album Release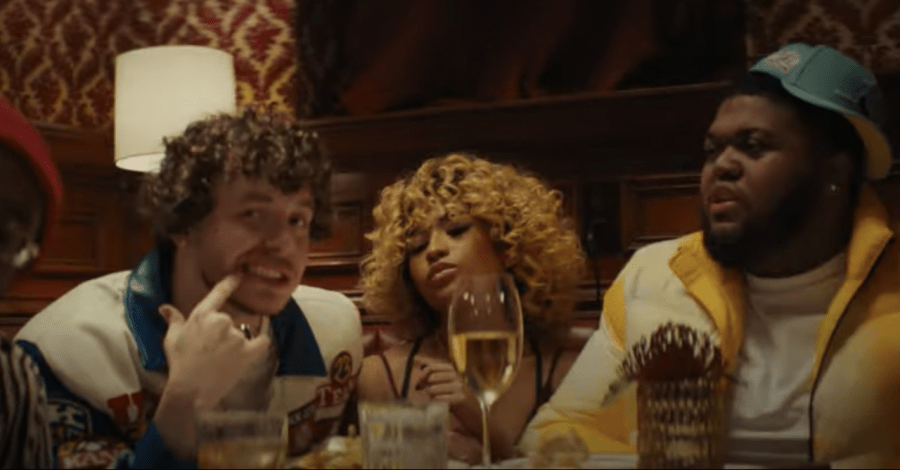 Jack Harlow's That's What They All Say debut album arrives on Friday (December 11), but the Louisville, Kentucky native has one more surprise in store for fans. Harlow connected with Big Sean on Wednesday (December 9) for "Way Out," which released alongside a lavish visual featuring an appearance from internet comedian Druski.
The clip accompanying the Jetsonmade-produced single finds Harlow enjoying an expensive dinner with a few beautiful women at a steakhouse while Big Sean opts for a drink at the bar. The duo links up once again to close the video in front of a revolving stripper carousel.
View this post on Instagram
Speaking to Zane Lowe on Beats 1, Harlow said they recorded "Way Out" the first day they met at Sean's crib and described him as one of the nicest rappers he's ever met.
"It was the first day we met," he said. "He invited me in the house and I think they the barrier that you could have just was broke down immediately. He's one of those down-to-earth cats. We just started talking about life. He was giving me gems. He's been in the game for so long now. He's experienced it."
Harlow continued, "He knows what it's like. So he was giving me a game bro, and just saluting me. And honestly, probably one of the nicest rappers I've ever met, if not the nicest."
The 22-year-old is ready to make the quantum leap to stardom on the heels of "WHATS POPPIN." As for the album, he's remained tight-lipped about potential features but promised some big names to appear on the LP.
"I tried not to have any songs identical to one another," he said of his approach to the project. "I didn't want two of a kind of anything. So I really showed a lot of range on here. I worked with a lot of producers. There's a lot of flavors, but more than anything, I do believe this album is timeless. And I think it will timestamp this moment. And people are going to remember this album and live with it for years to come."
Based on Spotify's year-end stats, the Grammy-nominated rapper saw his streams increase nearly 17x from around 50 million in 2019 to over 843 million in 2020.
View this post on Instagram
Watch the "Way Out" video above and gear up for his debut album with the trailer below.