Kendrick Lamar's Diamond-Encrusted Crown Of Thorns Was 10 Months In The Making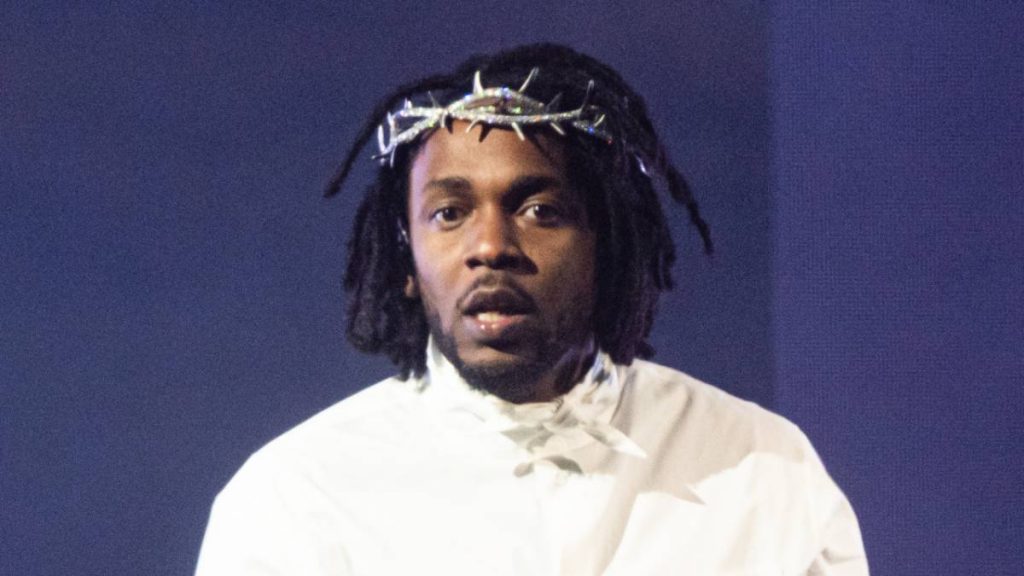 Each chapter of Kendrick Lamar's illustrious career brings not just a new alias (Cornrow Kenny, Kung Fu Kenny, Oklama) but a new look — and his current Mr. Morale & The Big Steppers era is defined by a crown of thorns that rests majestically on his head.
The Christ-like headpiece first made an appearance on the Mr. Morale… album cover, but fans have been given a closer look at the crown during Kendrick's recent string of European performances, including his surprise medley at Louis Vuitton's Paris Fashion Week show and powerful headlining performance at Glastonbury Festival.
A closer look at the crown of thorns reveals just how impressive it is. In a story published on Sunday (June 26), British Vogue details the backstory behind Kendrick's current favorite accessory, including the extraordinary materials and manpower that went into its making.
View this post on Instagram
The custom diamond-encrusted titanium crown is a collaboration between K. Dot, his longtime manager/pgLang partner Dave Free and luxury jewelers Tiffany & Co., who have also partnered with JAY-Z, Beyoncé and Pharrell over the last 12 months.
"The crown is a godly representation of hood philosophies told from a digestible youthful lens," Free explained. For Kendrick, it pays homage to the artists who came before him while serving as a physical embodiment of his devout Christian faith.
"I wear this [crown] as a representation so you'll never forget one of the greatest prophets to ever walk the Earth," he told the Glastonbury crowd on Sunday night. "We gon' continue to try our best to walk in his image."
View this post on Instagram
Designed over the course of 10 months, the crown features 50 thorns and over 8,000 cobblestone micro pavé diamonds totaling 150 karats. It took more than 1,300 hours of work by four of Tiffany's most accomplished craftsmen to handset the diamonds.
That remarkable process began with producing the crown in 14 separate components in Tiffany's New York workshop, before it was assembled in the northern region of Italy and custom fit to Kendrick's head.
"Kendrick Lamar represents the artistry, risk-taking creativity and relentless innovation that has also defined Tiffany & Co. for nearly two centuries," said Alexandre Arnault, executive vice president, product and communication, Tiffany & Co. "We are proud and incredibly excited to work with a visionary like Kendrick in realising his vision for the crown."
Arnault shed more light on Kendrick's crown on his own Instagram page, sharing close-up photos of the stunning headpiece as well as the meticulous process that brought it to life.
"We at @tiffanyandco are very proud to reveal that we have made this crown for @kendricklamar," he wrote. "Made of polished titanium, with over 9000 diamonds, for a total of 150 carats. Only for Kendrick! Last slide : the Schlumberger brooch which inspired us. Congratulations to all the teams involved in this 10 month long project."
View this post on Instagram
As if the headpiece wasn't impressive enough, Kendrick Lamar's crown of thorns became immortalized at Glastonbury on Sunday night. At the end of his headlining set, blood poured down K. Dot's face from the crown as he delivered a powerful plea for women's rights.
"They judge you, they judge Christ/Godspeed women's rights!" he chanted, just days after the U.S. Supreme Court controversially overturned Roe vs. Wade, stripping women of their constitutional right to abortion.
As for how much the extravagant headpiece is worth, Kendrick played coy when asked about the price tag backstage at Glastonbury.
View this post on Instagram