Lil Nas X Drops Full BET Diss 'Late To Da Party' With NBA YoungBoy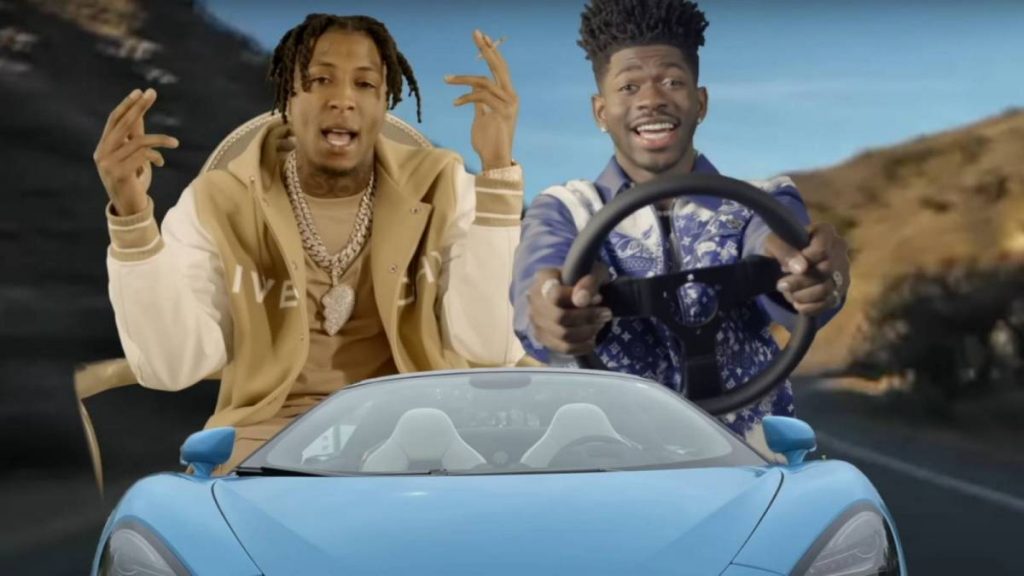 Ahead of the 2022 BET Awards, Lil Nas X continues to fuel the fire of his one-sided beef with the network with his latest release.
On Friday (June 24), the "Industry Baby" rapper joined forces with NBA YoungBoy in the official music video for his "Late To Da Party (F*CK BET)" single, which he first teased a snippet of on his personal social media earlier this month. The Gibson Hazard-directed music video further plays on Lil Nas X's rift with BET in the intro of the visual, which recreates the cover art for the single featuring a BET Award trophy at the bottom of a toilet bowl being urinated upon.
While the addition of NBA YoungBoy as the guest feature on "Late To Da Party (F*CK BET)" was a bit of a surprise, the scathing energy Lil Nas X imbued into the record was not. On June 1 he actually went on Twitter and revealed his frustrations with being snubbed and receiving zero nominations once again in 2022, after a banner effort in 2021, which included the release of his platinum album and Hot 100 Chart-topping single.
"thank you bet awards. an outstanding zero nominations again. black excellence!" he wrote in the tweet that has since been deleted.
Even though BET swiftly responded to Lil Nas X, waving the white flag and extending their support and appreciation to the Atlanta native despite his grievances with the network, the Montero rapper wasn't the only artist who believed he was noticeably snubbed.
Queen Latifah also recently stuck up for Lil Nas X, who believes his sexuality could be part of the reason why he has purportedly been black-balled by BET, and explained why she thought he deserved a nomination while speaking to TMZ outside of the Jimmy Kimmel Live!
"Lil Nas X is amazing," she graciously replied. "He should've been nominated. I don't know if that's the case. I don't know what's behind all that, but inclusion is always the key. That's what we should be striving for. There's enough room in this world for everybody."
The 2022 edition of the BET Awards ceremony will commence on Sunday (June 26), at 8 p.m. ET/PT from the Microsoft Theater in Los Angeles, California.  Doja Cat leads all artists with six nominations, including one in the category of Album of the Year.
Additionally, artists such as Drake, Ari Lennox, Kendrick Lamar, Kanye West, Lil Baby, Future and Baby Keem are among those in contention for multiple awards. Check out the full list of nominations here.
Watch the full "Late To Da Party" video below.