Lizzo Fans Come For Aries Spears After Comedian Says She Looks Like 'The Shit Emoji' – He Fires Back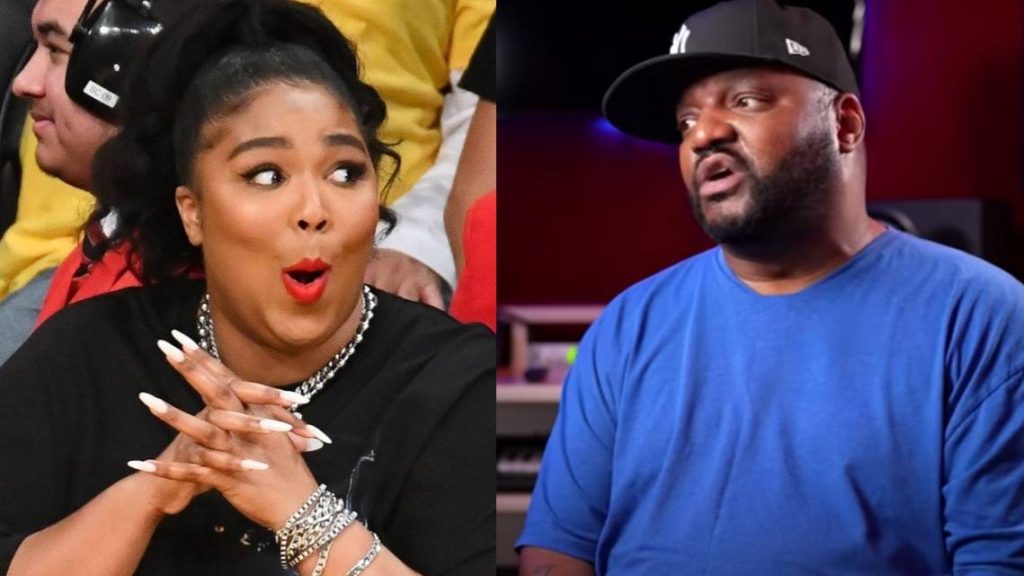 Lizzo's fans are coming to her rescue after comedian Aries Spears made some disparaging remarks about the singer in a recent interview with The Art of Dialogue.
A clip from the conversation started making the rounds on Friday (August 26) after it was posted on Twitter. In the 1:30-minute video, the show's hosts says, "You know somebody who actually makes good music? Lizzo," to which Spears replies, "Lizzo? I can't get past the fact that she looks like the shit emoji.
"She got a very pretty face, but she keeps showing her body off n-gga, like c'mon, yo. I'm sorry. Listen, I ain't the most in shape n-gga in the world, but when you funny and you got swagger and confidence and you decent looking — I think I'm at least handsome — you get pussy. But a woman that's built like a plate of mashed potatoes, you're in trouble."
Spears goes on to explain what "kills" him about women. According to the former Mad TV actor, the "hypocrisy" and "contradiction" around "womanhood." He says the fact women don't tell each other when it's time to focus on their health and instead, encourage each other to celebrate their bodies — big or small — isn't "real love."
Aries Spears says that he can't get passed the fact that Lizzo looks like the ?emoji when asked about her music. pic.twitter.com/C2d4pbfDwl

— The Art Of Dialogue (@ArtOfDialogue_) August 27, 2022
Within minutes of the post, Lizzo fans had Spears screaming "heaven help me." Comments such as "Aries Spears was sweating and out of breath SITTING DOWN while talking about Lizzo" and "I'm appalled by the lack of awareness. He breathing heavy sitting down […] Aries Spears fat ass sound like a cold air intake just from sitting down" permeated the post.
But, as he admitted, he anticipated the backlash. On Saturday (August 27), Spears headed to Instagram where he posted a video addressing the controversy.
"I KNEW IT WAS COMING!!!" he wrote in the caption. "If the people that are angry particularly women really paid attention to the art of dialogue interview one I even called myself out for needing to lose weight and two more importantly the main point was celebrating the wrong thing there's a lot of hypocritical women who also bash men at laughters (sic) expense but if you're going to celebrate sister hood while Lizzo's confidence is commendable it's also dangerous."
View this post on Instagram
Of course, this is nothing new for Lizzo. Her appearance is under constant scrutiny simply because she doesn't fit the pop star "ideal." In a 2021 interview with Apple Music, the 34-year-old chanteuse quipped, "I feel like [being] fat is the worst thing people can say about me at this point. This is the biggest insecurity. It's like, 'How dare a pop star be fat?' I had to own that.'"
While Lizzo is typically able to fend off the criticism, she had a rare, vulnerable moment shortly after the August 2021 release of "Rumors" featuring Cardi B. Sitting in her bathroom with tears streaming down her face, Lizzo admitted the negativity had been affecting her.
Sometimes I feel like the world just don't love me back. It's like it doesn't matter how much positive energy you put into the world, you're still going to have people who have something mean to say about you. And for the most part it doesn't hurt my feelings; I don't care. I just think when I'm working this hard, my tolerance gets lower. My patience is lower. I'm more sensitive and it gets to me."
Although Lizzo didn't specify exactly what the messages said, she noted, "I'm not even going to say them, to give them power."
She added, "People saying shit about me that just doesn't even make sense. It's fat-phobic, and it's racist and it's hurtful. If you don't like my music, cool. If you don't like 'Rumors' the song, cool. But a lot of people don't like me because of the way I look."