Megan Thee Stallion Holds Back Tears During Emotional 'SNL' Performance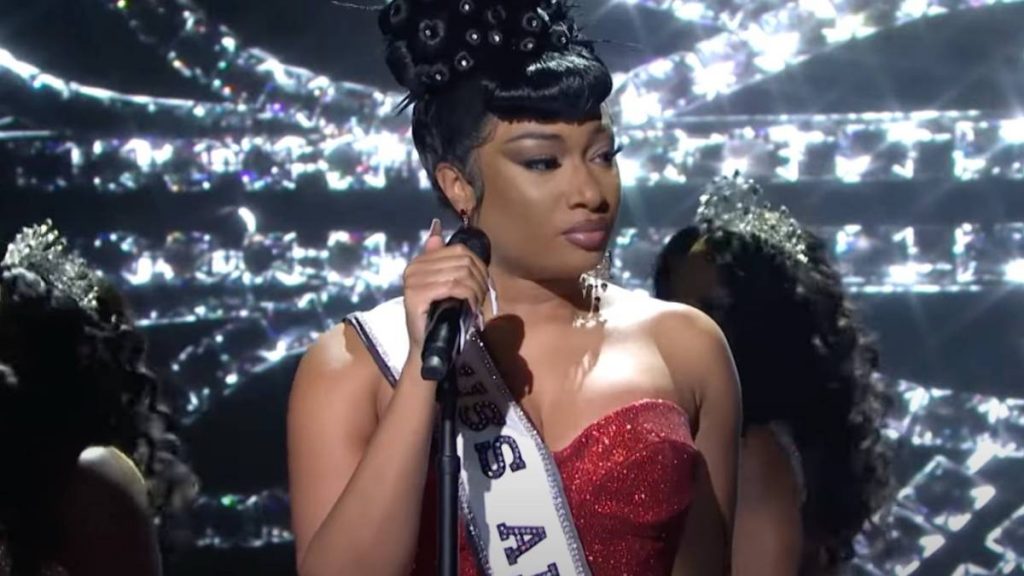 Megan Thee Stallion appeared visibly shaken during one of her performances on Saturday Night Live this weekend, where she pulled double duty as both host and musical guest.
Wearing a formal evening gown and a sash reading "Miss Anxiety," Meg opened a subdued performance of the song "Anxiety" standing in a v-formation with five dancers. Each of the dancers represented one of the personal issues address in the personal song — their sashes reading: "Ms. Underpaid," "Ms. Overworked," "Ms. Overwhelmed," "Ms. Overlooked," and "Ms. Insecure."
As Megan Thee Stallion closed out the song's hook, highlighted by the words "bad bitches have bad days too," her facial expression seemed to become more solemn and serious than it already was. When she began rapping the second verse — which finds her imagining writing a letter to her mother, who passed away in 2019 — the Houston-native began fighting back tears.
Despite quickly regaining her composure, she once again got emotional at the end of the performance. Check it out below.
In September, Megan Thee Stallion launched a website which derives its name from the hook, BadBitchesHaveBadDaysToo.com, which is a mental health resource. According to CNN, the site connects visitors to free therapy organizations, various crisis hotlines, and organizations that provide support for marginalized communities.
Meg — who received a Bachelor of Science in Health Administration from Texas Southern University last year — plugged the website during her monologue on Saturday night's (October 15) episode, telling the audience and viewers that she "believes it's important to have a sharp mind and a sharp body-ody."
The monologue also featured a moment when Tina Snow teased a statement about "a certain incident." However, rather than speak to the recent rumors she's had to address about Da Baby or Nicki Minaj, or her ongoing case against Tory Lanez, she pivoted to a joke.
"No, I don't know why Popeyes took the Hottie Sauce off the menu," she quipped. "And hotties if you want the sauce back, you need to take that up with the Popeyes Lady, not me, okay?"
In addition to "Anxiety," Meg's duties as musical guest also found her delivering a more animated, metal-inspired medley performance of "NDA" and "Plan B," with the support of a full band. As the episode's host, she appeared in a total of six skits.
Fans can likely expect to see more of the Hot Girl Coach's budding acting skills on the small screen. Just ahead of her appearance on the Disney+ series She-Hulk, Meg said in an interview that she would be interested in starring in a reboot of Bring It On.
"I always have wanted to be Isis," she told The Cut, referring to the cheerleader played by Gabrielle Union in the original. "I would be perfect for that. If they were ever to make a new Bring It On, I should be that character." The statement came just days after Union hinted that reboot could be something on the horizon.
Earlier this month, she hinted at a future appearance or collaboration with Netflix' Stranger Things.