NBA YoungBoy Causes Fan Frenzy Outside L.A. Courthouse As Gun Trial Nears Conclusion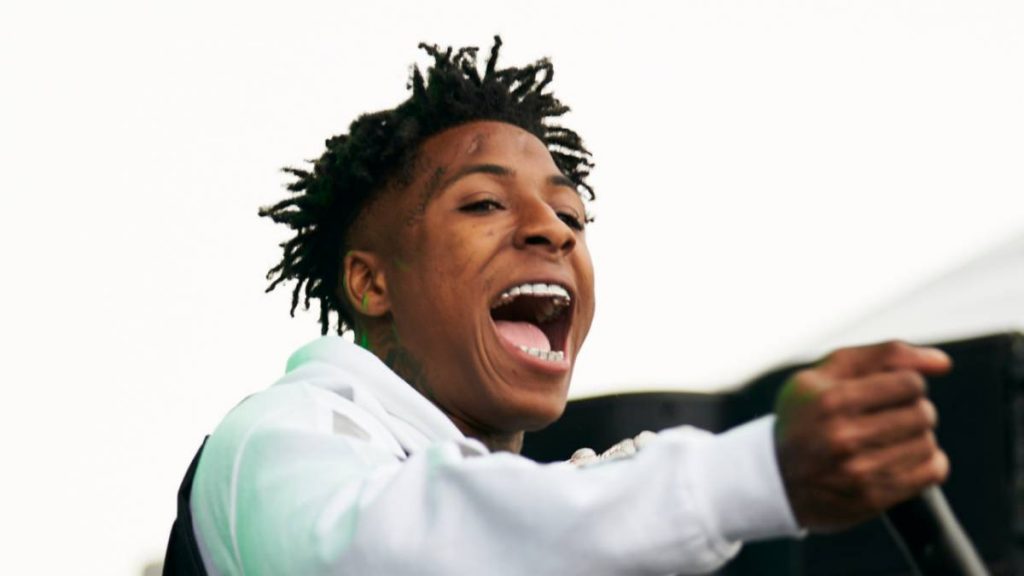 Los Angeles, CA – NBA YoungBoy received a hero's welcome while leaving a Los Angeles courthouse on Thursday (July 14) as his federal gun trial neared its conclusion.
After closing arguments from both sides were heard on the third and final day of the trial, the Baton Rouge native was mobbed by fans as he emerged from the Edward R. Roybal Federal Building and United States Courthouse in Downtown L.A.
A video on social media showed the 22-year-old rapper greeting and hugging a group of excited fans, until he suddenly decided to bolt. Another clip filmed from outside the courthouse showed him running down the street and jumping into a vehicle as a throng of fans chase him.
nba youngboy was like "let me get out of here real fast"? pic.twitter.com/n4TCIWZmXU

— blax? (@ybdeyo) July 14, 2022
????? Day 3 Of NBA YoungBoy Trial in Los Angeles, California pic.twitter.com/487egXxMjr

— YPC ✝️? (@_ypcyoungboy) July 14, 2022
Despite the fan excitement, NBA YoungBoy isn't out of the woods yet. His fate in the gun trial now rests in the hands of a federal jury; if convicted, he faces the possibility of several years in prison.
The Top rapper (real name Kentrell Gaulden) was charged with possession of a firearm and ammunition by a convicted felon after police discovered a weapon in his vehicle during his March 2021 arrest in Los Angeles.
He led LAPD and FBI officers on a high-speed chase through a residential neighborhood as they attempted to execute an outstanding federal warrant stemming from a previous weapons arrest in his native Louisiana.
The Never Broke Again leader scored an early victory in the trial when U.S. District Judge R. Gary Klausner prevented his lyrics from being used as evidence. Prosecutors had attempted to connect the rapper to the FN FNX-45 pistol found in his vehicle using a line on his song "Gunsmoke" ("FN, Glock, MAC-10s.")
On the second day of the trial, FBI Forensic Examiner Icel Kuznetsova testified she retrieved "no suitable" fingerprints connecting NBA YoungBoy to the handgun. However, she clarified usable prints can be hard to extract from firearms and magazines due to a variety of reasons, including their use of "anti-moisture coating."
In a bizarre turn of events, one juror was excused from the case after admitting to being an NBA YoungBoy fan. "I love YB and I would decide in his favor," they told the judge, according to lawyer Mohammed Gangat.
Judge to juror no 7: is there any reason you would not be able to decide fairly in this case.

Juror no 7: I love YB and I would decide in his favor.

Juror No 7 was excused.

— Mohammed (Moe) Gangat (@lawyer4workers) July 12, 2022
Even before being mobbed by photo-hungry fans on Thursday, NBA YoungBoy has enjoyed a wave of support throughout the trial.
Cash Money mogul Birdman greeted him with a hug after day one of the court case on Tuesday (July 12), while boxing legend Floyd Mayweather — whose daughter, Yaya, he shares a child with — showed up to the courthouse on Wednesday (July 13).
YoungBoy faces a similar weapons possession trial in Louisiana after he was arrested along with 15 others while shooting a music video in Baton Rouge in September 2020. Police discovered 14 firearms, three grams of marijuana, one dose of hydrocodone and digital scales.
NBA YoungBoy and Birdman share a hug outside the courthouse after his first day of trial pic.twitter.com/HeAfK6vpLP

— No Jumper (@nojumper) July 13, 2022
Floyd Mayweather pulled up to court to support NBA YoungBoy pic.twitter.com/hldroLtUzO

— Hot Freestyle (@HotFreestyle) July 14, 2022