T.I. Impersonates Boosie Badazz While Joking About Their Sons' Recent Arrests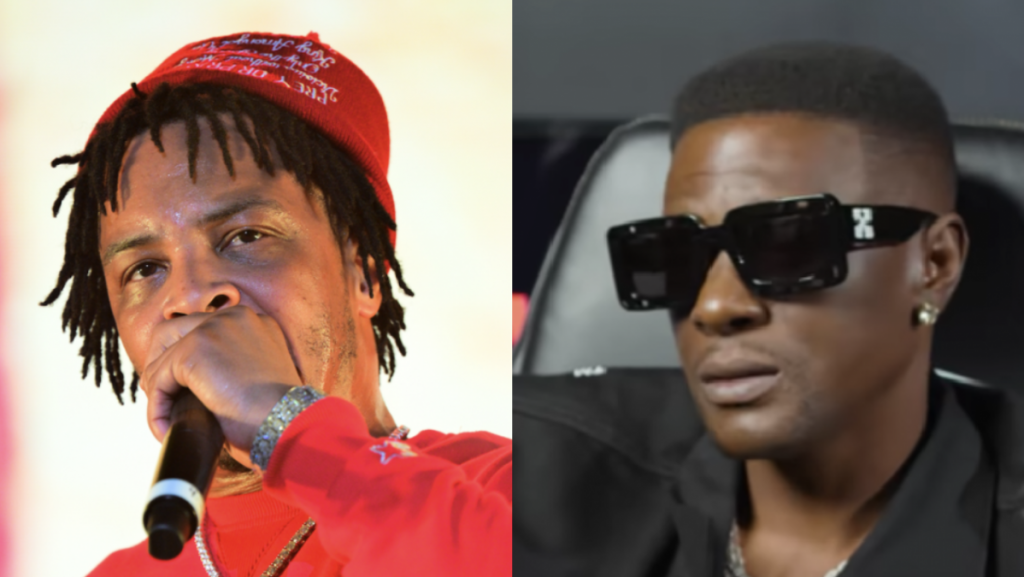 T.I. did his best Boosie Badazz impression while joking about their sons' recent arrests during a comedy show earlier this week.
King Harris and Tootie Raww — the sons of Tip and Boosie, respectively — were reportedly handcuffed last month while riding in a car together. King revealed on Instagram that he was hit with four violations, although further details remain scarce.
At what appeared to be a recent show at the Whole World Improv Theatre in Atlanta, the Hustle Gang honcho put a comedic spin on the teens' legal troubles and left the crowd in stitches as he impersonated Boosie's reaction to the arrests.
"The n-gga say, 'They done got King and Tootie, mayne," Tip said in a nasally Southern drawl. "They got 'em on the side of the road, mayne.' I said, 'What the fuck did they do?' 'They say they got an iron, they got muthafuckin' drank, they got pints, mayne. This ain't looking good, mayne.'"
@tbyrd1982 Went to see T.I at Improv. Listen how it went down when King got arrested #fyp #comedy #datenight #boosie ♬ original sound – Tiarah Gamble
While T.I. was able to joke about it during his stand-up set, he initially issued a stern public warning to King in an Instagram video shortly after his arrest.
"Small request, stop hitting me … getting in my comments … tellin' me what to tell King," the trap pioneer said. "I know my son, think I ain't spoke to my son? Think I ain't told my son, his mama and his grandmamas? His ass goin' to prison! If he got damn keep this shit up, his ass goin' to prison.
"Can't nobody stop it but him. I've already made my peace with it because I know that energy. I was that energy. I know exactly how it's gonna turn out."
Boosie Badazz addressed the arrests himself during an interview with VladTV earlier this week. "[Tootie] got detained but they let him go," he said. "I think [the arrest was due to] suspicion of weed or some shit. I think King got a DUI — I don't know, some shit."
He added: "They was saying they found a little weed or something. It wasn't nothing for them to charge them with or nothing like that. Whatever they had, I think it went out the window."
Boosie went on to take blame for Tootie's brush with the law, admitting he "raised [his] kid wrong."
"I'm partly to blame for my son. I don't really know King's upbringing, but I raised my son fucked up," he said. "I gotta keep it real. My son was raised different. I raised my kid wrong and now it's kinda coming back on me, but he hasn't seen the troubles I've seen."
However, the Baton Rouge native is trying to right those wrongs as a parent and set his son straight — a process he's planning to capture on camera as part of an upcoming reality TV series with T.I. and King.
"I'm stricter on my son than I've probably ever been, with getting on him about stuff," he added. "Now that he's getting older, I'm much more in his life as far as making him try to do the right things. After leaving him wrong, I'm trying to make him do the right things and he listens to his dad.
"We finna shoot a reality show right now, me, T.I., King and Tootie. We gon' be getting on they ass … and breaking them into seeing what they gonna do with theirselves. That's what the reality show's gonna be based on, them crossing over into manhood and making their own decisions and being scolded by their fathers."