The Cool Kids Kick Off Triple Album Rollout Featuring JID, EPMD, Larry June, Guapdad 4000 + More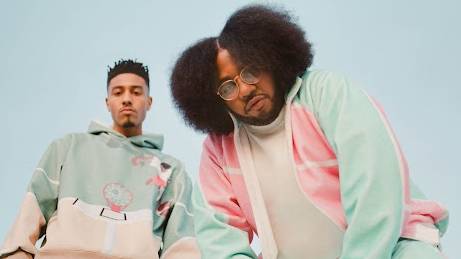 The Cool Kids are back with a vengeance. On Friday (January 28), Chuck Inglish and Sir Michael Rocks announced their first full length project since 2017's Special Edition Grand Master Deluxe and one of the only triple albums in Hip Hop history. The inaugural installment is titled Before Shit Got Weird, which will feature both members of the group. The last two entries will be solo albums from Sir Michael Rocks and Chuck Inglish.
To coincide with the announcement, the pioneering Chicago duo has dropped a taste of the album called "It's Yours Part 2." Part Beastie Boys' "Paul Revere" and Wu-Tang Clan's "It's Yourz" but 100 percent Cool Kids, the track features deep, rolling bass and ominous synths peppered with their effortless rhymes skating across the top.
"I wanted to figure out the concept of what we were, what do Cool Kids remind people of?" Chuck Inglish told HipHopDX in a 2021 interview. "What feeling do you get when we first came out? Before shit got weird, before 2012 hit, before EDM bled over into all musical genres, people started wearing a lot of black, leather, spikes and shit. I was like, 'What the fuck is going on?'
"Shout out to people and their individual styles but in rap, to watch things to go from being diverse to everyone chasing this one sound and one style because it was lucrative, I realized this shit is weird, right? Not weird disrespectfully."
The Cool Kids haven't been completely off the radar for the last five years. In 2020, they released their 13-track effort Volumes with guest verses from Guapdad 4000 and Boldy James as well as production from The Alchemist and Kenny Beats. A year prior, they delivered the Alchemist-produced Layups EP followed by their Got Wings collaboration with Def Jam/Taylor Gang producer Cardo.
Before Shit Got Weird is fully produced and mixed by Chuck Inglish, boasting features from JID, Guapdad 4000, Key!, Larry June, 6lack, Chance The Rapper, Pac Div, Don Cannon, Nic Jr, Gabby!, Pell, A-Trak and EMPD. Previously released singles include "Hibachi" featuring Key! and "All Or Nothing" featuring Larry June. The project is expected to arrive on March 3.
Until then, check out the full tracklist below and "It's Yours Pt. 2" above.
1. Its In the Mix (Introduction)
2. Horizon Island f. Gabby!
3. Scam Likely (interlude)
4. Hibachi f. Key!
5. Dapper Dan Leather
6 .Pick Up On Line 6
7. It's Yours Pt. 2
8. All or Nothing f. Larry June
9. Too Bad f. Pell & Atrak
10. I'm Coming Over There f. Guapdad 4000
11. Lightwerk f. 6lack & JID
12. Strictly Business f. EPMD
13. Triumph pt. 2. f. Pac Div & Don Cannon
14. Riding Clean f. Nic Jr.
15. Low Sodium f. Chance The Rapper
16. Warm Handshakes