Young Thug Pays Tribute To PnB Rock From Prison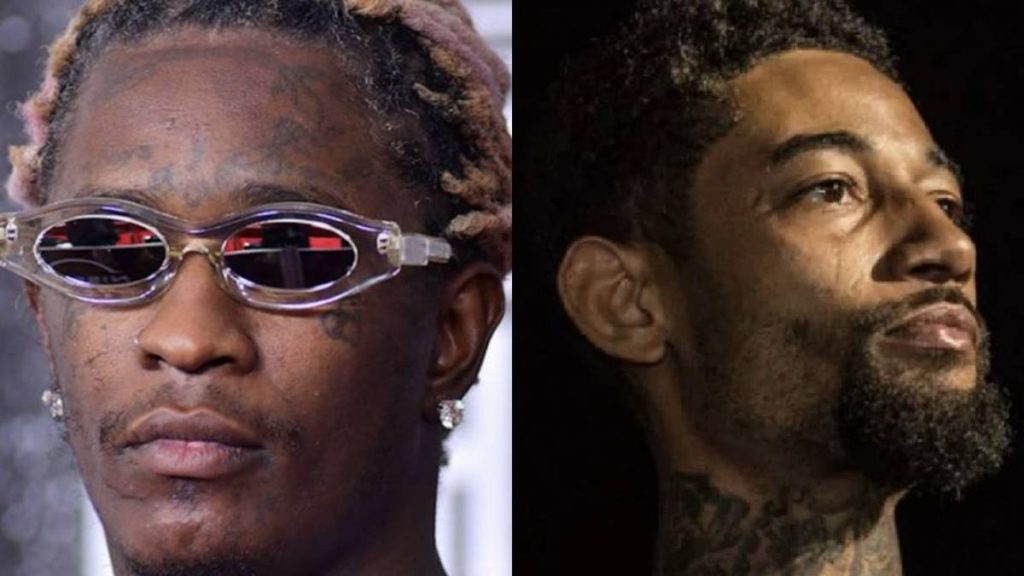 Young Thug is the latest rapper to pay tribute to the late PnB Rock on social media after the rapper was shot and killed in Los Angeles earlier this week.
The incarcerated rapper took to Twitter on Tuesday (September 13) to mourn his "Eyes Open" collaborator. "R.I.P. lil bruh. Love 5life," Thugger wrote in his post.
The two rappers collaborated on a couple occasions, the first being "Gang Up" alongside 2 Chainz and Wiz Khalifa from The Fate of the Furious: The Album movie soundtrack.
They teamed up once again on "Eyes Open" alongside Lil Baby, although the track's release didn't go too smoothly. The song was originally recorded in 2019 and leaked online a year later without Lil Baby's vocals and wouldn't see an official release until late 2021.
R.I.P. lil bruh. Love 5life 🙏🏾

— Young Thug ひ (@youngthug) September 13, 2022
PnB Rock was gunned down in broad daylight during a robbery inside Roscoe's Chicken & Waffles in South Los Angeles on Monday (September 12). Rock (real name Rakim Allen) was at the restaurant with his girlfriend, who posted a location-tagged photo of their lunch date on her Instagram Stories prior to the shooting.
According to Los Angeles Police Chief Michel Moore, the social media post may have tipped off the assailant to the rapper's location.
"The target was expensive jewelry, property that he had on his person," Moore said on Tuesday (September 13) during a press conference. "We believe this senseless murder occurred following a posting on Instagram or social media."
He added: "The posting of that may have led to these individuals learning where he was at and going there specifically with the intention of robbing him because he's known in the social media circles as frequently possessing very expensive jewelry and property of great value."
Other tributes to "Selfish" rapper poured in from across the Hip Hop community following his tragic death, with Drake, 21 Savage, Meek Mill, Pusha T, 2 Chainz and many more paying their respects.
Young Thug's tribute isn't the only tweet he's posted since he's been in custody at Fulton County Jail awaiting his January 2023 trial on federal racketeering charges.
Among the many tweets sent from his profile were questions about sex, Michael Phelps' incredible swimming ability, and having alone time with a picture of Mariah The Scientist. However all the alleged activity on his Twitter page could land him in even more trouble.
During a court hearing on September 8, a judge called for limitations on the communication between lawyers and their clients in the RICO case after prosecutors raised concerns about leaked discovery information and witness intimidation.
According to a report from 11 Alive News, Thug and Gunna's lawyer, Brian Steel is fighting prosecutors claiming the YSL leader has access to a phone. Steel has claimed someone else is handling the tweets however the judge concluded if Thug can get messages out, he can intimidate witnesses.
"[The Michael Phelps tweet] was a conversation that was recorded between [Young Thug] and a member of his close family, close friendships," Steel stated during the hearing. "He asked the other person who's in control of his Twitter account to send that, or the Instagram, maybe. That is not a reason to [restrict]."
He added: That was an innocent — that's nothing bad. Asking somebody to tweet to Michael Phelps: 'Can you swim 100 miles in the ocean?' That has nothing to do with intimidation."
The judge said in return: "Well, if I can communicate through a family member or somebody else, then I can communicate something else."