Young Thug 'Punk' Is An Intimate Potluck With Excess Leftovers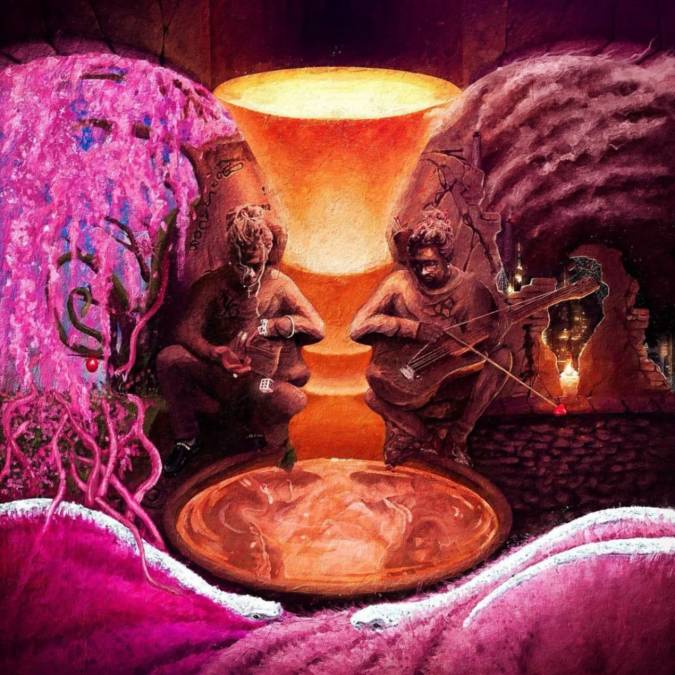 A quick Google search of the word "punk" results in any of these definitions: "A usually petty gangster, hoodlum or ruffian; one who affects punk styles; young inexperienced person; nonsense; foolishness." These all, in some way, align with the enigma that is Jeffery Lamar Williams, popularly known as Young Thug; it's just a matter of whether he displays these characteristics himself or has been labeled as such by others. The 30-year-old was dismissed by many rigid rap purists early in his career. Risky fashion sense, high-pitched vocals, and listeners being too close-minded to accept his style led to Thug being one of the main rappers denigrated with the term: "mumble rap."
But Young Thug didn't waver, and he's now become one of the most influential rappers of the past decade. His DNA can be traced back to much of the melodic rap, eclectic clothing, and unabashed confidence branded by "non-traditional" rappers in and out of Atlanta that listeners have come to love; it just took some years for people to see the vision. As for the "petty gangster" portion, his direct commentary toward Pusha T in Summer 2020, among other squabbles with rappers, shows he's got no issue verbally jousting or making threats outside of the music.
Punk, Thug's second 2021 release following the YSL compilation Slime Language 2, is the latest addition to his multi-faceted highlight reel. Thug combines lyrical gymnastics with introspection on his life, past and present. This album is closely paralleled to 2017's Beautiful Thugger Girls, while also incorporating more refined elements from all of his past work.
Dabbling in country music elements, BTG polarized listeners at the time but has since been lauded for its innovation as Thug seemingly found a new skill within his arsenal–blending the earnest storytelling of acoustic guitar music with his acrobatic spitting. Punk is the realization of this endeavor, just four years later with a stronger feature slate despite being a bit more indulgent at 20 songs.
The album opens with the Strick-assisted "Die Slow," where Thug details his brother Unfoonk's prison time, mother's relationship with a sheriff, her eventual stroke, and other heavy topics. The soft guitar strums backing his spoken word delivery make the song feel like a freestyled coffee house confessional, as he quickly transitions from the aforementioned traumatic topics to the lines "I always knew I wasn't gon' be gay/I had her sendin' pictures to my mom phone when I was like eight, tuh." The shift in content through this stream of consciousness is true to Thugger's unpredictable nature; he has the ability to get deep and personal but balance out his traumas with absurdity.
The Metro Boomin-produced "Love You More" is another standout offering. It slightly recalls the airy, celestial feel of 2018's "High" with Elton John but laps it on the back of a captivating intro from fun.'s Nate Reuss and one of Gunna's best vocal outings of his career.
"Don't ask about petty things," Gunna belts with gusto. "Don't have to beg, she get anything/I love her bad, yeah-yeah,yeah-yeah." Every vocalist on the song fully leans into simping, reflecting on the love they feel and how selfless they are as a result.
"Faces" is a peak, employing some of the album's most grand production with a slight gospel influence. Thugger has the incredible ability to manipulate pockets in rap songs, but "Fifth Day Dead" is a refreshing outing where Thug rides the beat in a way that simply feels natural. "Hate The Game" is a nod to how the cookie crumbles: "I fucked her the first night, and then I never called again/Next time lil' shawty seen me, I was ridin' with her friend […] Do not hate me, hate the game, baby."
For all the good on the album, there's admittedly some fat that should've been trimmed. "Rich N-gga Shit," the fifth pairing between King Slime and the late Juice WRLD, is a fine club banger but doesn't add much to the album. "Livin It Up" and the first half of "Stupid/Asking" are identical production-wise, and if following the guidelines of Twitter's #OneGottaGo, it's a no-brainer to part ways with the former, even if it includes the first passable A$AP Rocky verse in years.
"Yea Yea Yea" is uninspired, featuring repetitive hooks that pale in comparison to the more creative and catchy selections throughout the LP. Thug links with his protégé Gunna three times on the album, the most inessential song being "Insure My Wrist." The track is inferior compared to the more dynamic collabs with Gunna such as "Recognize Real" and "Love You More." "Road Rage" feels out of place among this collection of unconventional records, despite notable production and lyricism; perhaps it could've fit better as Young Thug's standalone solo outing on Slime Language 2.
With Punk, Thugger continues to expand his game to the point of reaching true limitlessness; he's like a young, athletic slasher in basketball who expands his repertoire to become well-rounded and achieve longevity in the sport. He has nothing left to prove, so instead, Young Thug reminds everyone of what they're witnessing every time he steps on the court. Punk is just another triple-double from a rapper who makes it look effortless.
Repeat Me:
Fan Feedback:
nah, what Young Thug did on Punk is wayyy ahead of it's time. this shit is beautiful

— Jessé Alordiah (@JesseAlordiah) November 30, 2021
I honestly forgot that Young Thug dropped Punk, that's how disappointing it was

— Ryan (@YeezyTaughtMe72) December 6, 2021
My mom LOVED Punk by Young Thug and she's addicted to Contagious. She played it for her boyfriend and he told her that he didn't like Young Thug. She told him that she didn't understand why they got along. I love her sm 😭.

— Dedee 🥀 (@thoughtfulbae) November 8, 2021