FMB DZ Shares 'P Rock Baby' Album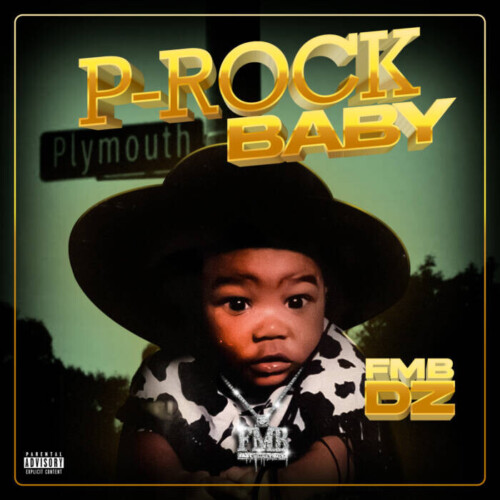 Mixing smooth-talking flexes with pearls of street wisdom, FMB DZ radiates the gravitas of one who worked hard for every dollar. Reflecting on his upbringing as he enjoys the fruits of his labor, the Fast Money Boyz rapper shares P Rock Baby, his new album. Spanning 13 tracks, P Rock Baby gets its title from the local term for Plymouth Road, or P Rock, a thoroughfare in Detroit that runs from the heart of downtown out to the suburbs. The street is a microcosm for all that Detroit has to offer, from the city's largest public pool to Coney Island diners and more.
"P Rock is the place to be in the summertime," explains FMB DZ. "You'll see lines 100-200 cars deep of people trying to spend time by the pool, play some basketball, or grill outside. When I was younger, me and my friends would get some pocket change and go get some snacks from the corner store and walk the 2-3 miles to the pool and spend all day there."
Released as summer approaches, P Rock Baby resembles what it might feel like to gather many of Detroit's best rappers for a P Rock cookout, with DZ as the soft-spoken, yet authoritative host. DZ's longtime collaborator Sada Baby, who appears on buzzing pre-release single "Double Headed Dragon," while he demonstrates an easy chemistry with fellow Eastsider Icewear Vezzo on "Try Me," and goes toe-to-toe with Skilla Baby and The Glockboy on "With A Bang."
The tape reverberates with the piano arpeggios and bouncing basslines characteristic of the city's flourishing rap scene, providing a propulsive backdrop for DZ to reminisce about his youth and revel in his boss lifestyle. Project highlight "Rocktroit" expands on the formula, combining the Detroit sound with ominous guitars and synths and a burbling organ that recall 80s-style arena rock anthems. Recent singles like "Starting 5" and "Wasting Time" dig deep into DZ's mogul mentality, revealing the ruthless mentality and deep loyalty that earned him a following in his city and the respect of his peers.
"This neighborhood got me ready for life," says FMB DZ. "I learned about love, betrayal, spending my money, making my money…everything I know I learned on P Rock."
Along with the album, FMB DZ shares the video for "Level Up," a P Rock Baby banger featuring BabyTron. Pirouetting above skittering snares and resonant handclaps, the two rappers go punchline-for-punchline, competing with one another to see who can craft the most outlandish boast. In the video, Detroit takes over Los Angeles, as the Fast Money Boyz and ShittyBoyz chieftains ball out in Beverly Hills, counting dozens of bands and still having money to burn.
Featuring additional appearances from BabyTron, LOM Rudy, and P Rock Sean, P Rock Baby is available everywhere via Fast Money Boyz / EMPIRE.
FMB DZ continues to make waves in Detroit and beyond. Stay tuned for much more from the young OG in the near future.
[embedded content]
© 2023, Seth "Digital Crates" Barmash. All rights reserved.