J. Cole Shows Up at Fan's College Graduation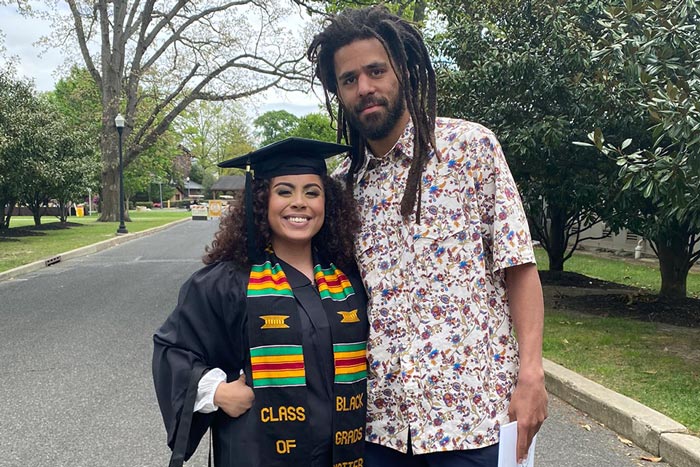 J. Cole keeps it real when it comes to his fans.
The Dreamville rapper surprised one of his most loyal supporters when he showed up to her college graduation, nearly a decade after first meeting her.
Back in 2013, Cierra Bosarge-Fussell called into a local radio station with the hopes that Cole would come to her high school and wish her a happy birthday.
Three months later, she received a call from Cole, who invited her to meet him in person in Philadelphia, where she presented him with a letter she had written for him years prior.
"In the letter it says all I went through," Bosarge told Complex at the time. "With being adopted, my parents being hooked on drugs, in and out of prison. At the time both parents were in prison so I asked him could he come to my graduation since they can't."
J. Cole kept his promise pic.twitter.com/JEymKJsqAy

— Cole (@Jcolevillle) May 11, 2022
Cole told Cierra he would attend her high school graduation if she kept her grades up and got into a four-year university. Two years after their meeting, Cole kept his promise and attended Cierra's high school graduation.
And he was there again when Cierra graduated from Rowan University in Glassboro, New Jersey on Wednesday, much to the surprise of her fellow students.
Cierra shared photos from the emotional day when she received her college diploma as Cole cheered from the crowd.
"this is for all the fans that waited, the bitch ni**as that hated, old hoes we dated, look mama, we made it," she wrote in her caption, quoting lyrics from Cole's 2012 hit "Nobody's Perfect."
Cole's manager Ibrahim Hamad also congratulated her, writing, "Congrats on your accomplishment, you deserve it!! Love to see it."
this is for all the fans that waited, the bitch niggas that hated, old hoes we dated, look mama, we made it pic.twitter.com/RjH1gDzXgQ

— chucky (@princess_simba) May 12, 2022
crying y'all brb pic.twitter.com/tjhFBq2vAs

— chucky (@princess_simba) May 12, 2022
shoutout to yasmine, her and cole stood up and yelled when they said my name

— chucky (@princess_simba) May 12, 2022
Congrats on your accomplishment, you deserve it!! Love to see it. https://t.co/1JGPFski4q

— Ibrahim H. (@KingOfQueenz) May 11, 2022