Quavo Surprises Saweetie with a Bentley for Christmas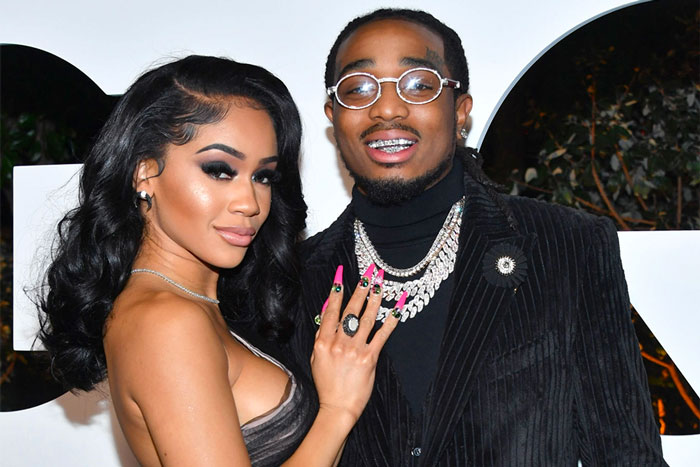 Christmas came early for Saweetie.
Quavo surprised his girlfriend with an icy new whip for the holidays. Saweetie shared her jaw-dropping reaction as she was presented with the keys to a brand new Bentley Continental GT in powder blue.
"My heart is beating so fast," said a stunned Saweetie before thanking Quavo. "Merry Christmas, baby. I love you," he said while kissing her on the cheek.
The convertible, which costs over $200,000, was customized especially for the "ICY GRL." Quavo thought of the details, embroidering the word "ICY" in the headrest and placing Saweetie's signature snowflake emblem on the driver's side door.
Quavo gifts his GF Saweetie a custom Bentley for Christmas👀❄️💰 pic.twitter.com/wFV1xhcsci

— Hip Hop Ties (@HipHopTies) December 23, 2020
Saweetie also laced herself for the holidays with her very own jet, sharing photos of herself on the tarmac at the airport. "I got my first motherfu**in' jet, I'm hella happy," she said. "All aboard, ICY Airlines."
Saweetie buys her own jet 🛩 pic.twitter.com/FBjOyInpxy

— DatPiff (@DatPiff) December 22, 2020
View this post on Instagram
The couple has been known to spoil each other with lavish gifts. Quavo previously gave his boo a Birkin bag and a $75,000 snowflake chain, while she surprised him with a 1961 Chevy Impala for his birthday last year.
The two have been inseparable since meeting through social media. "I feel like I'm growing and I'm maturing because of him–not the music, not Saweetie, but Diamonté," Saweetie told GQ earlier this year. "I don't know how I would be as a person if I would have never met him."