SPESH D DJ: Unleashing the Vibrant Beats of Liberian Music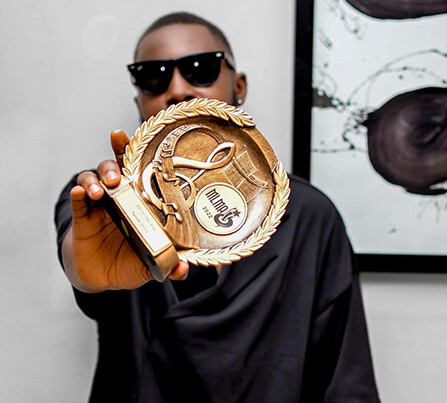 Journeying through the Vibrant Music Career of SPESH D DJ and his Dedication to the Liberian Music Scene
In the dynamic music scene of Liberia, SPESH D DJ, also known as Sokolobilo, is making waves with his electrifying beats and unwavering passion for his craft. Born as Bennett S. Annan on May 4, 1993, SPESH D DJ draws inspiration from his African-Liberian culture and the power of the internet to create a unique fusion of genres that resonates with diverse audiences.
SPESH D DJ's journey began as a "campus-based DJ," spinning tracks and honing his skills in local venues. His talent and dedication soon caught the attention of the music industry, propelling him to become Liberia's "Best DJ." This significant milestone marked the beginning of an exciting career that continues to flourish.
While SPESH D DJ draws motivation from within himself, he also leverages the internet and networking to explore different sounds and incorporate diverse music elements into his work. His ability to seamlessly blend genres speaks to his versatility as an artist and his commitment to creating music that transcends boundaries.
With a deep appreciation for his African-Liberian culture, SPESH D DJ infuses his music with elements that celebrate his roots. He masterfully incorporates traditional African instrumentation and rhythms into his tracks, infusing them with a vibrant energy that reflects the spirit of his community. By staying connected to his heritage and embracing current trends, SPESH D DJ brings a unique perspective to the Liberian music scene, attracting both local and international attention.
SPESH D DJ's career is marked by numerous achievements and memorable performances. From the Inter-College basketball tournament to the All Black Masquerade Party, TIDAL RAVE, and ECOFEST in Sierra Leone, he consistently captivates audiences with his exceptional talent as an entertainer. His collaborations with renowned artists like Nuchie Meek and his role as DJ/Hypeman for Kobazzie at ECOFEST further demonstrate his ability to connect with fellow musicians and contribute to the vibrant music community.
Beyond his music career, SPESH D DJ is an entrepreneur at heart. He has successfully launched his clothing line and serves as a brand influencer for 1xbet, leveraging his music career to support his entrepreneurial ventures. His upcoming EP and annual brand release showcase his dedication to both his music and business projects, allowing him to create a sustainable future for himself.
In addition to his artistic and entrepreneurial pursuits, SPESH D DJ actively engages in community crime watch initiatives, using his platform to inspire others and promote unity. He emphasizes the values of consistency, perseverance, and continuous improvement, encouraging aspiring artists to pursue their dreams relentlessly. Furthermore, SPESH D DJ supports "The Game Changer," an organization dedicated to combating rape and advocating for change, demonstrating his commitment to using his platform for positive impact.
Looking to the future, SPESH D DJ aspires to become a legendary DJ, leaving a lasting legacy in the music industry. He envisions building a theatre that serves as a hub for creativity, nurturing talent, and showcasing the vibrant music culture of Liberia. Through his music, SPESH D DJ aims to convey the power of music to transcend boundaries and evoke emotions, connecting people on a profound level.
With upcoming projects, collaborations, and his forthcoming EP featuring talented artists, SPESH D DJ's fans can eagerly anticipate his next musical offerings. As he continues to leave his mark on the Liberian music scene, his captivating beats and infectious energy will undoubtedly captivate audiences near and far. SPESH D DJ is not just a DJ but a true trailblazer, using his talents to unleash the vibrant beats of Liberian music and shape the future of the industry.
Connect with SPESH D DJ on:
Instagram: https://www.instagram.com/spesh_d_dj/
© 2023, Tedfuel. All rights reserved.