The Boombox, nationally syndicated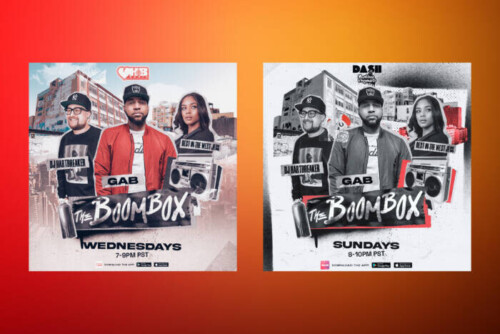 So much has happened since the last time we caught up with HB RADIO. From new additions on Good Morning, Wake Up with Jay Golden & Friends, to A/V interns Amo and Fatboy becoming The Function Mix show producers and also bringing aboard the newest on-air personality, Best In The West Jess, HB RADIO is unstoppable.
The Boombox is the newest program / mix-show on HB RADIO. Bringing classic hip hop, old school hip hop, and boom bap to a west coast powerhouse station. The Boombox will be live every Wednesday evening starting June 7th from 7 p.m. to 9 p.m. PST with Gab, Best In The West Jess, and Dj Hartbreaker.
With months of planning and rollout, not only is The Boombox a new program / mix-show on HB RADIO but it is also now nationally syndicated on DASH RADIO as well. You can also catch The Boombox on DASH RADIO (Native Rhymes) channel every single Sunday from 8 p.m. to 10 p.m. PST starting June 11th.
You can listen to HB RADIO live with the NEW FREE app located in all app stores for all devices. HB RADIO shows also appear as podcasts after broadcasting for an on-demand listening experience, available via Apple, Spotify, Amazon, Mixcloud, and more.
Inspired by the genre and motivated by the community, HB RADIO continues to rise from driven independence to unstoppable success, creating a listening experience that is second to none and which celebrates the very best of the hip-hop world with limitless commitment to the cause.
HB RADIO – Las Vegas' #1 Hip Hop Internet Station
© 2023, Leonard Magazine. All rights reserved.