Rick Ross Issues Brutal Response To Gillie Da Kid's 'Cow' Diss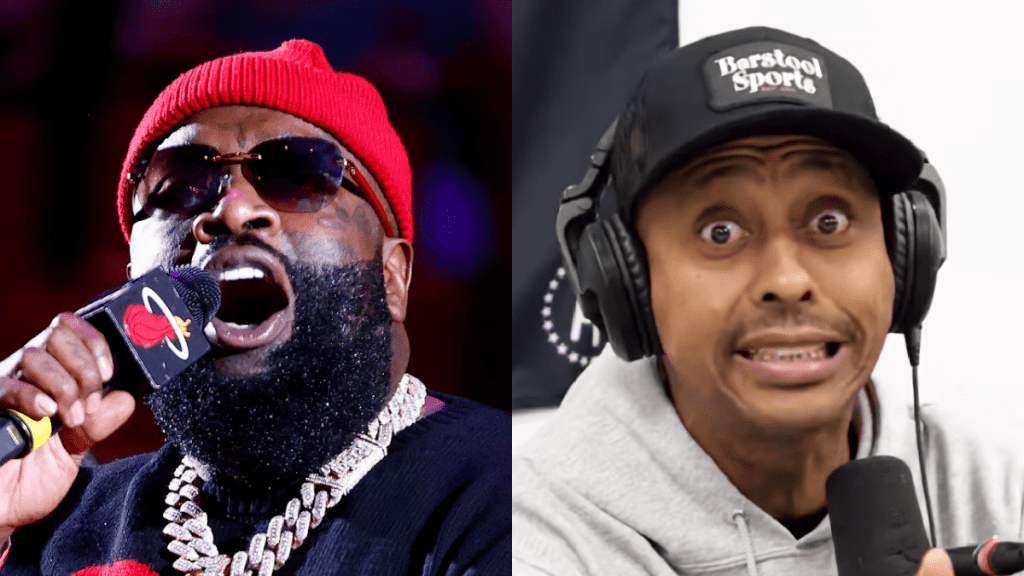 Rick Ross has responded to Gillie Da Kid after he ridiculed his recent cow purchase. In a video posted to his Instagram Story on Thursday (July 14), the MMG mogul subliminally fired back at the Million Dollaz Worth of Game co-host, claiming he spends more money on his cattle than Gillie does on his family.
"Fellas, fellas… let me give you the real game," Ross said while roaming around his Georgia mansion barefoot in a robe. "When I spend more money on my cow than you do on your wife and kids every month, you should take notes."
In typical Rozay fashion, the Port of Miami rapper quickly lightened the mood by showing off the newest addition to his animal collection, a grass-covered bear sculpture named Lulu.
"But more importantly, meet my bear," he continued as he panned the camera to the inanimate figure. "This my bear. I named my bear Lulu. That's Lulu, y'all. Toast to the biggest!"
View this post on Instagram
Gillie Da Kid took aim at Rick Ross during his and Wallo's Million Dollaz Worth of Game interview with producer Southside earlier this week, mocking the 46-year-old MC for doing "dumb shit" on social media while bringing up his past as a correctional officer.
"These old n-ggas, they don't hear the roar of the crowd no more and they still think the roar gon' come back, so they be on Instagram and they be on social media doing dumb shit," he said. "'I just bought a cow!' Why the fuck would you buy a cow for?
"You know I was gonna bake you, n-gga. I seen you in them comments, n-gga. You know I was gonna bake your goofy ass. Fuck wrong with you? Don't ever comment on nothing about me, n-gga, when you used to be a C.O., n-gga. When you used to lock n-ggas like Wallo in the cell, n-gga. You know I was gonna bake your dumb ass."
Gillie later explained he didn't appreciate Ross calling him a "fraud" in Mack Maine's Instagram comments section. The Young Money president posted a since-deleted video of Gillie running into his long-time rival Lil Wayne at a recent Jackson State University event, refuting the Philadelphia native's claim Wayne ducked him.
Gillie Da Kid continued his campaign against Rick Ross on Thursday after he announced he's launching his own podcast, but needed help coming up with a name. Gillie suggested Rozay call his show the Lock It Up Podcast and even posted a mock cover featuring a photo of Ross during his correctional officer days.
"I got ur name 4 ur podcast @richforever aka The Mickey Mouse Show," he wrote on Instagram. "ur history ain't right to fu$k with me u betta leave that alone."
View this post on Instagram