SAINt JHN Says Fans May Get 'Collection Two' After Loving His Kanye West & Lil Uzi Vert Capsule Collaborations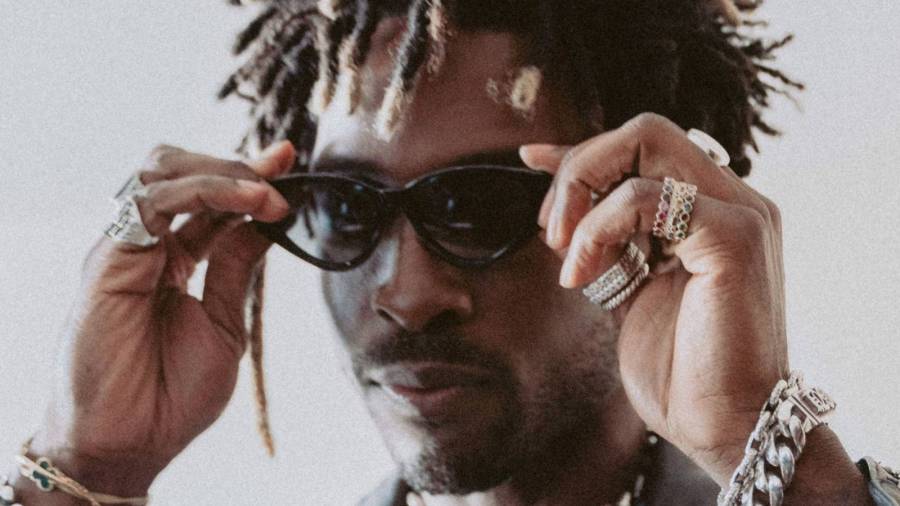 SAINt JHN's debut project Collection One was a proper introduction to the Brooklyn rapper in 2018. It brought a whole new wave of fans who were taking a liking to JHN's genre-bending sound despite him being in the game for over eight years at that point. He announced Collection Two shortly after that, amping up his fans for the next era.
The following year brought Ghetto Lenny's Love Songs, which propelled him even further into the spotlight but still, fans were waiting for Collection Two. In various interviews, JHN explained he would be releasing something each year and that only opened the door for more speculation in regards to Collection Two coming in 2020. The year came and JHN delivered another album he called a capsule collection titled While The World Was Burning.
It wasn't the album fans wanted, but they welcomed it anyway.
The "Roses" rapper dropped a trio of studio albums in three years and has a Grammy nomination under his belt. On top of all that, fans are anxiously waiting for Collection Two, which JHN keeps teasing on social media. Right now, he's at a pivotal point in his career where he has to decide whether to unleash Collection Two when the anticipation for it is high or make the fans wait even longer for it. If JHN goes with the latter, he runs the risk of sounding uninspired like other rappers who dropped sequels years after the first installment.
The Game and Eminem released sequels to The Documentary and The Marshall Mathers LP later in their careers, respectively, and both albums received lukewarm receptions due to each rapper not sounding as hungry or focused as when they came out. JHN could fall into that space whenever Collection Two does drop but as he told HipHopDX, the same won't happen to him because fans will love it whenever it does come since everyone is just catching on to his timeless music.
"2020 wasn't the year for Collection Two and I don't have to even tell that to you," JHN told DX. "How could they have been prepared for something that I'd given them the first installment of when they weren't ready at that time? They're just catching up, and we know they're late. I'm holding the class back, allowing for more people to come in the door. So we could really start the lesson."
Collection One – full collection
Ghetto Lennys Love Songs – seasonal collection
WTWWB – capsule collection

— SAINt (@SAINtJHN) September 14, 2020
Then, Collection Two – full collection

— SAINt (@SAINtJHN) September 14, 2020
Because JHN had no plans on releasing an album due to the COVID-19 pandemic, While The World Was Burning is a perfect set-up to where JHN wants to take his listeners. The album came together organically with Kanye West, Lil Uzi Vert, 6LACK and more reaching out to JHN to make music. He explained the process of making While The World Was Burning showed him he can make something happen without even trying, and that fuels him even more to make Collection Two a classic.
"I always think 10 years into the future, so I've been thinking my whole life," he said.
Every step he takes in the industry has to be a smart one if he wants to achieve success and JHN feels he's doing exactly that since the moves he's made he planned years ago have gotten him this far.
DX spoke more with SAINt JHN about Collection Two, While The World Was Burning, the importance of timing, having the upper hand over his peers and more.
HipHopDX: You just got a Grammy nomination for "Roses (Imanbek Remix)." Do you feel pressure to make a record bigger than that?
SAINt JHN: I'm sure you heard my catalog already, so you don't even need an answer to that question. You can answer it for yourself. By dynamic, I make so many different types of music. If you could figure out what my best song is, I'd pay you. But I bet you, you couldn't. Do you know?
HipHopDX: To be honest with you, my favorite song of yours is "94 Bentley."
SAINt JHN: See, I love that. Let's say "94 Bentley." You wouldn't go tell somebody that's the best song I've ever made. Right? You'd probably struggle to figure out whatever the best is. You know I'm not trying to best something I did five years ago. You got to imagine I've already done that. The goal wasn't to beat "Roses," the goal was to make sure you heard it. I don't got to do that twice. I did that once.
HipHopDX: You didn't necessarily have to put out While The World Was Burning following the wild success you got off "Roses." You could have gone to work on Collection Two which people have been waiting on for some time now. What made this the right decision for you to put out While The World Was Burning?
SAINt JHN: Honestly, I didn't set it out with this intention, so I'm not really sure I could take even credit for how or why it happened. Some of it was a little bit outside of me. Some of it was just the momentum of what was happening. I'm in my head when I'm saying that. You don't completely know what I mean. I've set out on this path so long ago that even the things that I didn't intend on doing get accomplished.
I had no intention of making a collection this year, but I've been on the next year after year, after year, tour after tour, after tour. Even without trying, the momentum of going forward pushed me to a place without anybody making me do it. When the phones rang before me, Kanye called me and somebody called Uzi for me and 6LACK picked up the phone. So that was the momentum of all the energy I've had without me trying to plainly establish that I wanted to make another collection this year. It kind of made itself, and I got out the way.
HipHopDX: Does that make you feel like you have the upper hand over other artists? You did something without even trying and it came together, in your eyes, perfectly?
SAINt JHN: Nah, you know what made me feel like I have that? I felt like I had the upper hand the entire time because I own my masters. I own my publishing and I own all of my rights related to touring and merchandising. I felt like I was ahead of the curve because I was doing great business from the start and that relates to what you're saying because that's what made me feel like I had the upper hand from the jump.
That's what makes me, and allows me to feel like there's zero pressure. I control and own my art. I own this space and the territory that I live in. That gave me an incredible amount of peace and comfort knowing that when I talked to my mom on the phone, she's talking to an entrepreneur that's an artist. As it relates to other artists from a taste and talent point of view, we all do something different. I'm just that nigga.
View this post on Instagram
HipHopDX: What's the most important thing you learned about yourself while making While The World Was Burning throughout quarantine?
SAINt JHN: I learned something I already knew. I knew I was ready and I got to see that in real-time because I was ahead of the curve with every collection I've made like the Ghetto Lenny's Love Songs. I was ahead with Collection One. I was ahead, which is why it took "Roses" five years for it to catch on. I was hoping, advocating and angling to be on time at this point in my life in general.
Not today, not yesterday, this general time period of my life, I just wanted to be on time. I got that. I'm on time. I'm watching the reaction in real-time. I'm watching the ripple effect and the sandstorm. I'm watching While the World Was Burning. I'm watching my name go up the way I suspected it would because I'm at the right timing. So, I'm on time.
HipHopDX: Timing must be very important to you, huh?
SAINt JHN: Yeah. Timing is key. Timing is crucial. Timing is the difference between going forward and turning back.
HipHopDX: Speaking of timing, you've been in the game for a while. You started songwriting and then you were putting out your own music. How do you know when the timing is right and how do you stay on course?
SAINt JHN: I just trusted myself. To be really honest with you, I trust myself in a way that I don't trust anybody else. I trust that whatever I hear is true, whatever I believe is the fact and whatever I speak can happen. And then trusting myself when it feels right, it's right. I don't have to think twice. I knew when not to make the left turn and avoid the bullet that came over my right shoulder. I knew when to stay in the crib because there was a fire outside.
If I kept myself safe, alive, alert and happy for this long, then I figure I have a keen understanding of what's going on in my life. If I know that, then I could apply that same amount of knowledge when it's time to do something with my art. I'm learning, listening, developing, and making sure it's happening in real-time. I'm listening and I'm not just listening to myself and others. I'm listening to the signs that aren't necessarily even meant for me. I always think 10 years into the future so I've been thinking my whole life.
HipHopDX: That's really a gift because not everyone in this game can do that. There are so many distractions that keep them from seeing what's around them and trusting their intuitions.
SAINt JHN: You know what? You say it's a gift. I wonder if it is. I think it becomes a gift when it becomes useful to you. I think at some point it's a burden. The responsibility of being aware is a burden. That means I know better. That means if I know better, then I got to do better. And if I know better and I have to do better, then I've got no excuses. So the gift is a responsibility.
HipHopDX: Where does While The World Was Burning rank with your other collections?
SAINt JHN: I like that you asked that question and I like that I don't have an answer for it. For you to ask that question, that must mean I have a catalog. That must mean I have Collection One, Ghetto Lenny's Love Songs, and I lived long enough to put out While the World Was Burning. I'm glad I don't got an answer for you. Let somebody else decide that one, like you.
HipHopDX: OK, if I had to, I would have to put Ghetto Lenny's Love Songs first. Collection One would be number two and then obviously I would put While The World Was Burning as number three.
SAINt JHN: Now tell me why you would rank it like that.
HipHopDX: Well, I feel like with Ghetto Lenny's Love Songs, you really came out of the gate with that one. You had all these different types of sounds on it and you had collabs with Lil Baby, Meek Mill, Lenny Kravitz and A Boogie wit da Hoodie. Then listening to this project, I see what you're doing. But I wasn't seeing the extent of where you could take your music like what you did on Ghetto Lenny. You understand what I'm trying to say?
SAINt JHN: Yeah, of course. You're not going to see the extent of where I can take my music. I started from a place that's so expansive. Where I start is people haven't caught up to. Think about that. Collection One was the starting point for us to have a relationship. You know me and we need to talk to you and that blew you away. Ghetto Lenny's Love Songs furthermore cemented how expansive I could be. You don't need me to keep growing in real-time. You need the world to keep growing around me so that you can understand what I'm doing, which is why it's happening right now on time. While The World Was Burning is when you're finally understanding it.
So you might be a futurist in the way you think. You might be so progressive that you constantly want to keep moving forward despite who's around you. I want to move and I want to move forward and take the people with me. So as I was 10 steps ahead of them on Collection One, I sat back and I was five steps ahead of them on Ghetto Lenny's Love Songs. I waited and I'm right where they are on While The World Was Burning. So now I could lead them to where I want to.
HipHopDX: There's a lot of big-name features on this album. What made this select group of artists the best choices?
SAINt JHN: I wanted to ball! If these are my peers and these are the people that put up the shots, the dunks, the pass, the triple-doubles. I know you would never see me ball and you don't need to see me play an individual sport. But if this is my sport and I'm LeBron, then I'm going to show you how I ball. I'm going to look at what the court looks like. You remember the game while the world was burning, you saw what happened.
HipHopDX: There was something I noticed on this album too, was that you put two songs on there that you had already done, "Monica Lewinsky" and "High School Reunion." Why did you use those spots for those songs when you could have used them for songs people haven't heard yet?
SAINt JHN: Well, everything is something that people haven't heard yet until people have completely heard it. If I was Beyoncé, I wouldn't have to introduce myself. If I was JAY-Z, I wouldn't have to say my name at the door. But because I'm doing that, that means you haven't heard it yet. If I had that same set of beliefs, then you would have never heard "Roses" when it was time for it to be heard, which is right now, not five years ago when I made it.
If you think of me as a case study, I'm the reference point of the examples for the kids who don't believe in rules or who do it on their own shot clock, who carve out their own lane for themselves with only guiding principles that they decide at the time. One of my primary guiding principles is timing. I made my own timing. So now I'm going to let you hear exactly what you need to hear at the time that is important to me. They didn't take "Monica Lewinsky" the way they should have, and it grew up. From 2019 to 2020, it went from "Monica Lewinsky" to "Monica Lewinsky, Election Year." This time it was DaBaby and A Boogie and me. "High School Reunion" became "High School Reunion, Prom." It got even more nostalgic when I got another piece to the puzzle.
I wasn't done painting them and you weren't ready to completely see it. So think of yourself and everybody who had witnessed at the time that I did it as the early viewing party. You got to preview the entire thing before the world saw it. Now it's on time. Now everybody gets the impact that you already knew. So you almost got a clap knowing that you were smart enough, creative enough, and had good enough taste to see this coming. The only thing I care about is what I believe.
HipHopDX: Fans have been waiting for Collection Two, and a lot of people thought When The World Was Burning was going to be Collection Two. What does that tell you about your music and how your fans receive it?
SAINt JHN: It tells me they're almost ready. It tells me I'm almost on time. I feel like I'm on time, right now and Collection Two will be further confirmation of that. You can sense it. There are people who've just heard me for the first time on "Roses." There are people who think "Roses" is my best song. So, you know I know when the people that have been here from day one, the people that were there before it, you can sense the awareness is growing and it's starting to be at an all-time high. But this is just my all-time high. It's the all-time high of all time. I'd like to get closer to that.
Check out more SAINt JHN content here and here. Stream his new album While The World Was Burning below.