TDE's REASON Talks Attacking 'New Beginnings' Album Like A Fan Recruiting Rapsody, Ab-Soul & Nearly Kendrick Lamar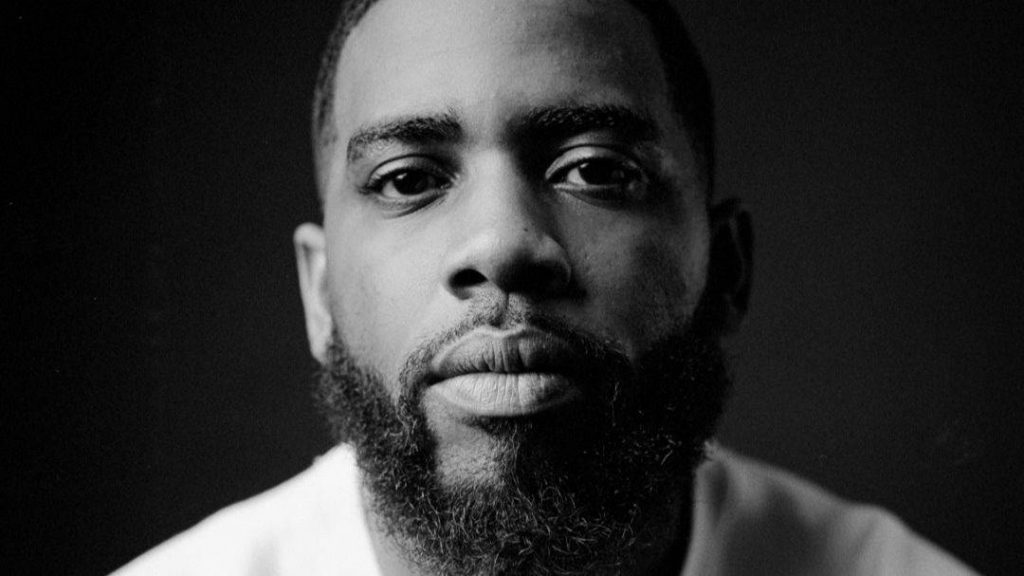 Editorial – There aren't too many rappers who rap with as much conviction and passion as REASON does. The Carson, CA native raps like there's something he has to prove each time he touches the mic and his songs are soulful to the point where listeners immerse themselves in stories about love, hate, depression, loss, and every emotion that a human can possibly go through. These days it's hard to find a rapper with a go-getter mindset like REASON and things have always been this way for him.
REASON always had to prove himself, whether it be on the basketball court where he had dreams of going pro, trying to feel at home on a college campus miles away from Cali or being the new rapper on the block trying to get people to listen to his first mixtape. The path it took to get to where he's at now in his career was difficult.
For starters, REASON initially had a goal of making it to the NBA, and he was hellbent on getting there. His hoop dreams only led him to a basketball scholarship and later a contract to play professionally in Greece. However, music got in the way of that. The form of art became an outlet he would go on to momentarily escape the stresses of being a Black man on a predominately White campus. After graduation, REASON turned down the contract and took on rapping full-time.
REASON had to fight the odds and prove himself again with his second project There You Have It. He bounced with the idea of quitting music altogether after a publicist ran with the thousands of dollars he put into the album. After taking time off to regroup, REASON found himself signing to one of the most prolific Hip Hop labels in the industry, Top Dawg Entertainment, in 2018 after label founder Anthony "Top Dawg" Tiffith listened to There You Have It.
These days REASON is no longer the new guy on the squad. He's speaking a different tone that has him stepping up to the plate and declaring he's ready to put the team on his back. It's a new chapter not only for his career but for TDE as well. REASON's latest album, New Beginnings, has the rapper elevating his craft sonically in various ways. It's an album that takes listeners on a journey through REASON's mind, his sophomore season at TDE, this new takeover mindset he has, and the bright path he set for his future.
New Beginnings is a product of all the frustrations, feelings, and patience REASON had to expend between signing the dotted line in 2018 to now. Everything from the rich production by !llmind, S1 and more to the hearty lyrics REASON spits about his pains with TDE, the industry, and life in general, New Beginnings is a great starting point for the rapper make his name known throughout Hip Hop circles.
"I think this is a situation to set myself up. I think that when people hear New Beginnings, and they see what I do have to offer, I think they'll be very, very interested and anticipating the next one. I kind of feel like I'm at a point where this is my stepping stone to be able to make a culture-shifting project," REASON said.
HipHopDX spoke more with REASON about New Beginnings, what he's learned about himself in quarantine, having confidence in himself, the growth from There You Have It to New Beginnings, and more.
HipHopDX: 2020 has been one hell of a year. How have you been maintaining throughout the madness?
REASON: That's a fact. I was actually just talking to my homegirl about this the other day. 2020 to me is dark but beautiful because this is the first time that everyone in America regardless of religion, age, financial situation, or whatever, is going through the same struggle. Think about that. There's never been a time where everybody can relate. I was having a talk with Wale, and he was telling me how he had certain plans this year, and COVID-19 fucked it up money-wise.
We both have financial goals and different things that we wanted to do this year. And no matter the division of money, Wale and I weren't able to hit certain things. So, it's been weird from that perspective, but it's been dope from the perspective of being a human. Like, I've never spent this much time with my family. I've never made as much music as I probably made this year.
HipHopDX: What's one thing you've learned about yourself throughout this pandemic?
REASON: The one thing I noticed about myself was just that I always used to put this pressure on myself about things that I couldn't control. I also noticed that when I was put into a space where I had no control, and there's nothing I can do, but do whatever is allowed to me, that when the pressure of that is gone I work even better. I used to always think I'm this person that works well under deadlines and pressure.
I always felt like I needed pressure and what not to be able to hit deadlines, and that's when I would work best. But I actually think I work best in environments like this, where it's like there is no pressure and it's all for the love. It's just I'm chilling and I'm able to create. I'm able to do what I got to do. And it really brought me back to the love of music, because the industry was taken out of it because of COVID-19.
View this post on Instagram

What a way to start my birthday! It's officially that season. "The Soul Pt. 2" OUT NOW! Link in my bio! #NewBeginnings Prod. By @bregmamusic & @lonestarrmuzik Mixed and Mastered by @keiteljr
HipHopDX: How would you describe your growth from There You Have It to New Beginnings?
REASON: I feel like on There You Have It, I was a rapper. I feel like with New Beginnings, I've truly become an artist. I feel like it's my debut project with the label. I feel like the production is better. I feel like my hooks are better. I've even gone a little bit deeper on the personal end as far as things that I'm talking about and stuff like that. So, I feel like from that perspective, I've grown a lot. But then also from the perspective of a businessman. Like, when I did There You Have It, I was in my room with YouTube beats. I wasn't thinking about videos and concepts of marketing and how we going to get this out.
Whereas this one, when I'm writing songs, I'm thinking about videos. I'm thinking about ideas that we can do to push it. I'm thinking about how this would sound at a show. I just attack the music from a way, way different perspective, and I feel like it feels familiar because it still feels like some of There You Have It vibes, but it also feels like a lot of growth. It's almost two different artists from There You Have It and New Beginnings.
HipHopDX: Last time we spoke, you said feel like you're the honest storyteller at TDE, and you feel like you were that new guy. Where you're at right now, where do you feel your place is now with the label?
REASON: I still feel that way as far as honesty. Like, I do feel like I'm the most honest member of the label. Sometimes to a fault. I'm not going to sugar coat shit. I'm not going to sugar coat how I feel about a certain situation. I'm not even going to sugarcoat where the label is as a whole. I'm never going to step out of line and say something I'm not supposed to from a respect standpoint. But I tell people all the time, I entered this shit as a fan. So, all of the same questions everybody else has got, I had those same questions. Everything that everybody else wants to see, I wanted to see those same things.
And that's also how I attacked this project. Like, I wanted to see Isaiah [Rashad] and J.I.D. on a record, and they never did, so fuck it, I'll put them on one. Like, that's how I looked at. Rapsody is my favorite female MC. I don't see enough male MC's have records with her. Like, fuck it, I'll go bar to bar with her. I'm a huge Ab-Soul fan being from Carson. I ain't heard shit from him in years. Fuck it, I'll put him on tracks and pick it up. That's how I attacked this project, from a fan perspective.
HipHopDX: On this project, you talk a lot about believing in your skillset and having the confidence to say you're one of the best out. Why do you feel you should be held in that regard when you've only put out a handful of music?
REASON: That's always the battle. It's that battle between me knowing what I have, and the world knows what I have. Like, the world has only heard this handful of records. I forget sometimes that this is my first project for the label. I forget that a lot, just because I got this project done, and I'm working on my debut album, and it's almost done. So, for me, my confidence is at a certain level, and my ability gave me what I've heard from myself and what I have, but at the same time, the world hasn't. So, you know it's always a thin line because I do have to remind myself like the people are right. I haven't proven anything yet. So, those are those things that I can always admit sometimes. I am overconfident in the standpoint of I haven't done anything yet, but I do feel like everything that I've done, if you look at it, it has been that level of what TDE is used to putting out. I don't feel like I've put out anything that is below the bar that TDE has set over the years, or whatever the case may be.
You can't take away an artist's confidence. I feel like I wouldn't be at the talent level that I am if I wasn't confident. I don't even think Top would've signed me if I wasn't confident. Every artist in TDE thinks they're the best artist on the label. I'll let niggas know that right now. From Zacari, all the way up to Dot, every single one of us feels like we are the best artist on the label, and I feel like that's why Top signed us because we have that confidence.
HipHopDX: What was the most helpful resource that you had with New Beginnings that wasn't there on your previous projects?
REASON: Kal Banx, he's incredible bro. It's crazy because Kal only produced himself like three, maybe four records on this project. But he touched on everything. He gave me that confidence and the ear to be able to take all these records to a higher level. Mainly after that, just the production. Like, the producers I worked with Business Boy, S1, Mike and Keys. If you're a producer head, this project is like a super, super iconic list of production. It's very high up there from a producer standpoint, and I feel like that was my biggest resource to being able to elevate this project.
View this post on Instagram

"NEW BEGINNINGS" out 10/9. I had to get rid of every fear, anxiety, doubt, and negative mindset to make this project. Through it all I'm just proud and thankful for the opportunity to share this part of myself with y'all. Humbled and thankful to all of y'all that have been patient with me but I'm proud to say "soon" is almost here. #TDE
HipHopDX: You were experimenting, as you said, with way more crowd rockers on it. Do you feel pressure to make those records so that the new crowd will accept you as opposed to the older crowd with your more conscious records?
REASON: I wouldn't use the word pressure only because it's more of something that I wanted to do. Like I think sometimes people forget that even the lyricists are music fans. Like we like club music, we like to go to the club. We like those records as well. So, I wouldn't say pressure, but I felt the desire to want to make those type of records also. Like, I wanted to prove to myself like I can make some of these. And what better place to do them than my debut project. It's not an album necessarily, as far as from a conceptual standpoint, or whatever the case may be. It's more like a collection of songs.
HipHopDX: Right now, in this stage in your career, do you feel more comfortable doing those turn-up records, or do you still rock with the conscious joints?
REASON: Definitely the conscious records. Me and my manager talk about it all the time. He's like when you making a project, you should probably do the singles first because you can do the Hip Hop conscious records in your sleep. But this is a music business and so, to answer your question, I definitely feel more comfortable over there. But I can say that I do have more fun sometimes doing the turn-up shit. It's just fun doing something that you weren't sure that you could actually accomplish.
HipHopDX: What made you want to open up with "Something More?" You're telling the story of a woman on that record.
REASON: What made me want to do "Something More" was that the song to me is what New Beginnings is about. So, New Beginnings is about leaving your comfort place, leaving fears, doubts, anxieties, everything and leaving that to be able to do something greater. I was in a very long relationship, almost 10 years and I had to leave the situation. There are so many times that we stay in relationships, jobs that we hate, situations that we hate, whatever it is out of fear. We just stay because we're comfortable. We don't want to take the risk and leave, even though leaving can be the greatest thing that you can possibly do for your life. We just don't want to do that because we're scared to do that.
HipHopDX: You got some Kendrick ad-libs on there. When is the first verse coming from K Dot?
REASON: I tried dog. People don't understand. It took me six months to get those ad-libs. And it's funny because fans were on me like, "Man, all he got was ad-libs?" I'm like, "Nigga, you don't know how hard it was to get ad-libs. If you all did, then you all would appreciate the fact that I got ad-libs, bro." I think if I would've kept pushing him, potentially, but after six months and I finally got the ad-libs, I was just like, alright I'm good."
HipHopDX: "Windows Cry" is such a tough record. What's the story behind that one?
REASON: "Windows Cry," I wrote while I was on tour with Rock. This is towards the beginning of me being signed, and I was having all these anxieties and stuff. To me, "Windows Cry" is a record talking about all those apprehensions. "Windows Cry" wasn't supposed to come out. It was supposed to be a record that I just wrote for me, and that got the shit off my chest, and now I'm moving on. But Top called me and he was just like, "What's the record that you talking shit about all of us on? What's that record?" And I was like, "Windows Cry?" He was like, "Yeah, yeah make that the outro." I'm like, "Nigga you sure?" He like, "Nah, nah. Trust me. Niggas need to hear that."
Every artist on this label has felt this way. They just haven't had and I wouldn't say the balls but they just haven't spoken about it publicly. So, he was like, "Man, people got to hear that. That's you. That's why I signed you." And so, that was Top's call. Like I said, in the beginning, out of respect, I was never going to put that out. I would never want to be the guy in public saying some of those things. If Top was cool with it, and that's the main nigga I'm talking about, then it's like, "Well fuck it. Let's do it." Shout out to Top for always putting artistry at the front end. That's why, to me, he's the greatest label CEO that there ever was because he really is just true to the shit to the core, so I fuck with him for that.
HipHopDX: You really have to believe in his system because when you think of TDE, you guys are held in high regard but we have gotten anything from the camp in a minute. You look at Dreamville and they had a monster year. How do you deal with how you guys release music knowing how hungry you are?
REASON: t's an everyday growing process, and I'd be lying if I said that every day I believed in the system. I don't believe in it every single day. But there are days that I do and there are days that I don't. But the days that I don't, it's really my respect for Top that kind of keeps me in line. It's almost like when you have respect for somebody and it's like they tell you to do some shit you really don't want to do but you can't say no to that person because of the level of respect you have. That's really what it is. And I look at the people I want to be like the Jay Rocks, the Qs, and the Dots and stuff and I'm like, they wouldn't have been there without Top. And so, that's what I kind of keep my faith in. But it's very, very difficult.
HipHopDX: Has everything been what you had hoped it would be since signing with TDE?
REASON: Nah, not completely. I think that there are certain things that I didn't know that I would get from a positive standpoint that I have gotten. And then there are certain things that I thought that I would get that I didn't get. I think the biggest thing is that everyone thinks that TDE is a very family-oriented label. And they also think it's like we're all chilling, kicking it and hanging out together. That's what I thought as well, and that's not the case. These dudes are established in the game. They're successful. You really have to come over here and earn your spot. And I'm thinking that I'm going to come over here and everybody's just going to be like, "Yay Reason. Here you go." Nah that wasn't the case at all. I think that was what I didn't expect, but I'm glad it was that way because now that I've earned their respect, it's from a much more genuine place.
HipHopDX: Speaking of Dreamville I heard a rumor about a collaborative album with you and Cozz is on its way. Can you shed some light on that?
REASON: Definitely. It's not a rumor. It's for sure true and it would honestly be done if my project wasn't coming out. I had a lot of stuff that I had to tie up for my project so, we had to kind of take a break. But I think it's going to be way, way better than a lot of people might expect it to be, because of the fact that when you're doing a project like that, you can focus on just barring shit up and having fun. We don't have to go in there and make super conceptual storytelling. We can jut bar the fuck up, and that's been what it is. We just got this chemistry that's weird bro. Like it's super, super weird how easy it is. We make records very, very easily. Very drunk at times.
But it's definitely been on me. But now that this project is out and done, I actually just talked to him yesterday, and we are definitely about to lock back in and try to just finish it up within the next couple of weeks because we're almost done with it already. Then we'll go into petitioning it and try to lobby for the labels to be able to put it out. As long as Dreamville and TDE can get on the same page, we'll definitely put it out. But I've already had conversations with Cozz about like if they can't get on the same page, we might just leak this shit on SoundCloud for the fans and say fuck it. Like it is what it is. Once it's out there it's out there.
Check out more REASON content here and here. His latest project, New Beginnings, can be streamed below.